Arghhh!!!! Injured and grumpy. I don't think that's the correct #ealingfeeling is it?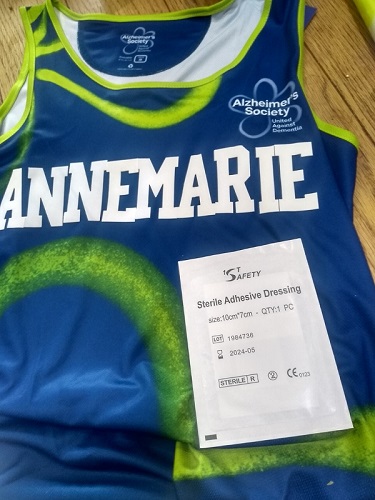 I thought it might not be the best idea to show y'all a picture of my right foot -currently red/raw and in a very sorry state having had a large blister burst on a training run last week (yuk).
The timing really couldn't have been much worse - but I'm trying to remain positive and doing my best to rest and heal so that it's in a position to keep me upright ( at the very least) for 13 miles on Sunday.
Yep, I'm def worried (any tips to help it repair quicker?) but ( and some say I'm crazy) am still fully intending on lining up with the thousands of others at Lammas Park.

Rain is forecast which will be a first for the EHM.

When I last 'ran' it, it was really hot,too hot for me, so being cooler will suit me much better but rain?... hmmm..hopefully it won't be torrential and won't deter the usual fab support on all the streets throughout the route.
I'm running/ raising funds for one of the headline charities - Alzheimer's Society. It's one I have had dealings with over the years and has helped many, many families.
If you can support me - or any of the many other runners please do.
Best of luck to everyone taking part... hope everyone has a great experience (and we don't get too wet/cold ) - please send all your positive vibes for my right foot!!
Annemarie Flanagan
25th September 2019