Virendra Sharma says policies not PR won election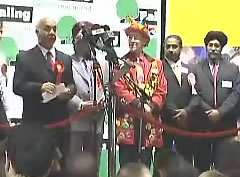 Labour have held on to the Ealing Southall Constituency with a reduced majority. Veteran Councillor Virendra Sharma is to represent the constituency after beating Nigel Bakhai of the Liberal Democrats into second place.
In his acceptance speech the new MP rejected claims that the Labour campaign had been lacklustre and said policies not slick PR had won the victory.
The Conservative candidate, Tony Lit, finished third. They did however have some success on the night with Greg Stafford winning the Cleveland by-election for the Ealing Borough ward.
Turnout was 42.95% 13.23 points down on 2005.
It remains to be seen whether the result is sufficiently positive for Labour to persuade Gordon Brown to call an early general election or sufficiently positive for the Liberal Democrats to persuade them to continue with the leadership of Menzies Campbell.

Result: By Election

Current Cand.
Party
2007

2005

Virendra Sharma

Labour

15,188

22,937

Nigel Bakhai
Lib Dem

10,118

11,497

Tony Lit
Con

8,230

10,147

Sarah Edwards
Green

1,135

2,175

Salvinder Singh Dhillon
Respect

588

-

KT Rajan
UKIP

285

-

Yakub Masih
Christian Party

280

-

Jasdev Singh Rai
Independent

275

-

John Sydney Cartwright
Monster Raving Loony

188

-

Sati Chaggar
English Democrats

152

-

Gulbash Singh
Independent

92

-

Kuldeep Singh Grewal
Independent

87

-
July 20, 2007