Selection of local businessman described as Tory 'own goal'
Related Links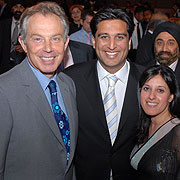 Who Will Win in Ealing Southall?
Greens launch Ealing By-election Campaign
Five Labour Councillors Defect to Tories
Labour Pick Their Man For The By-Election Job
Returning officer's official list of candidates:
Nigel Bakhai, Liberal Democrats
John Sydney Cartwright, The Official Monster Raving Loony Party
Sati Chaggar, English Democrats - 'Putting England First!'
Salvinder Singh Dhillon, Respect - Peace, Justice, Equality
Sarah Janet Edwards, Green Party
Kuldeep Singh Grewal, Independent
Tony Lit, David Cameron's Conservatives
Yakub Masih, Christian Party 'Proclaiming Christ's Lordship'
Jasdev Singh Rai, Independent
KT Rajan, UK Independence Party
Virendra Kumar Sharma, The Labour Party Candidate
Gulbash Singh, Independent
Result: General Election May 2005

Current Cand.
Party

2005

2001

Piara Khabra
Lab

22,937

22,239

Nigel Bakhai
Lib Dem

11,497

4,680

Mark Nicholson
Con

10,147

8,556

- (prev. A.Lit)
Ind

-

5,764

Sarah Edwards
Green

2,175

2,119

Malkiat Bilku
WRP

289

-
Participate
Sign up for our free newsletter

Comment on this story on the Ealing forum
Just when the defection of a number of Labour Councillors looked to be giving some momentum to the Conservative bid to win in Ealing Southall, a revelation about the attendance of their candidate at a Labour fund-raising dinner has proved to be a significant set-back.
Tony Lit is seen pictured with Tony Blair (see right) at the event for which his father's radio station, Sunrise, paid £4,800 for a table. The event was organised for the Asian business community earlier this month.
Mr. Lit said he was at the event in a business capacity and his attendance did not indicate support for Labour. He said, "As a businessman I did indeed attend this event for the Asian business community.
But like many British Asians I feel the Labour Government does not have the answers to the challenges that currently face the country."
His opponents are saying that this disclosure betrays his political opportunism as he joined the Conservative party a short while afterwards to become their candidate at the by-election.
Menzies Campbell's Chief of Staff, Edward Davey MP said, "David Cameron's choice of candidate in Ealing now looks like a huge own goal. With his shadow cabinet colleagues admitting that the Tories can't win in Ealing Southall, and a candidate who was backing Tony Blair just weeks ago, the Tory by-election campaign is obviously going nowhere."
Joan Ryan, who is running the by-election campaign for Labour, said: "This breathtaking and naked Tory opportunism will not fool the people of Ealing and Southall.David Cameron's personal intervention to overrule local Tories and appoint a candidate has totally backfired.
It seems likely that the Labour party held back this information so that the release would suit the weekend press.
The revelation seems to have undermined the Conservative claim that they are the best positioned to challenge Labour for the seat. Their advertising in local newspapers had trumpeted that they were ahead of the Liberal Democrats in the betting stakes for the election but since the disclosure they have fallen into third place according to the odds displayed on Betfair. Meanwhile the odds on a Labour victory have shortened.
The results of the poll which takes place on 19th July will be published on this site as soon as possible after the declaration.
The by-election was triggered by the death of Labour MP Piara Khabra last month, at the age of 82.

July 17, 2007