Lib Dems claim to be neck and neck with Labour
Related Links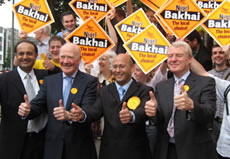 Ming Campbell, Nigel Bakhai and Paddy Ashdown but no Charles Kennedy
Police Inquiry Launched in Ealing Southall
Tony Lit Attended Labour Fundraiser
Who Will Win in Ealing Southall?
Greens launch Ealing By-election Campaign
Five Labour Councillors Defect to Tories
Labour Pick Their Man For The By-Election Job
Returning officer's official list of candidates:
Nigel Bakhai, Liberal Democrats
John Sydney Cartwright, The Official Monster Raving Loony Party
Sati Chaggar, English Democrats - 'Putting England First!'
Salvinder Singh Dhillon, Respect - Peace, Justice, Equality
Sarah Janet Edwards, Green Party
Kuldeep Singh Grewal, Independent
Tony Lit, David Cameron's Conservatives
Yakub Masih, Christian Party 'Proclaiming Christ's Lordship'
Jasdev Singh Rai, Independent
KT Rajan, UK Independence Party
Virendra Kumar Sharma, The Labour Party Candidate
Gulbash Singh, Independent
Participate
Sign up for our free newsletter

Comment on this story on the Ealing forum
As the residents of Ealing Southall visit polling stations across the constituency today there is almost a palpable sense of relief that the whole exercise is about to come to an end.
The contest has been rocked by controversy and allegations of dirty tricks with furious rows breaking out between and within political parties. Just today the police have announced they are investigating 'electoral offences' after a Conservative party worker allegedly supplied details of the percentage of postal votes cast for each party to a Daily Telegraph blog.
The Liberal Democrats have also asked Ealing Police to investigate the theft of stakeboards which they placed outside of supporters' homes. Some of these apparently have been disappearing.
The day of the poll has seen a big last push by the Liberal Democrats who believe their candidate, Nigel Bakhai, stands a good chance of pulling off a shock result.
The Lib Dems are claiming that their own polling shows them to be neck and neck with Labour although the current betting on the result continues to show Labour as clear favourites. With the betting site Betfair the Labour candidate, Virendra Sharma, remains the odds on favourite with Nigel Bakhai at 7-2 and Tony Lit 6-1.
Party leader, Ming Campbell, has been to the constituency no less than seven times and other Lib Dem luminaries such as Paddy Ashdown and Sarah Teather, the victor in the Brent East by-election. Charles Kennedy has also visited but 'diary conflicts' prevented him appearing on the same platform as the man who replaced him as leader.
Given the strong record of the Liberal Democrats in by-elections and their second place showing in the last general election an effective challenge is expected from party members.
Initially it looked possible that the Conservatives could mount the same challenge to Labour with the selection of Tony Lit and the defection of five Labour Councillors to their cause. They had a solid foundation from the strong showing in the Local Government elections last year. However, their bid seems to have faltered following the revelation that a short time before their candidate had attended a Labour party fund-raiser.
Conservative party sources have already conceded that they are now unlikely to win the contest. Some within the party believe that a good showing for the Liberal Democrats would be in their interests because they believe it is in their interests that Ming Campbell remains leader.
Polling is open until 10pm today. If you are voting by post but haven't yet returned your postal vote, there is still time. It can be taken in by hand to any polling station up until 10pm.
There is also a by election contest in the Cleveland ward of Ealing Borough Council. This was called following the death of Cllr. Brian Castle. The Liberal Democrats are hoping to win the seat from the Conservatives whom they trailed by just 88 votes at the last election.

July 19, 2007