Fall out from row over candidate selection continues
Related Links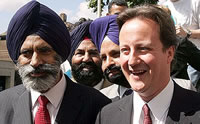 Gurcharan Singh with David Cameron this week
Labour Pick Their Man For The By-Election Job
Returning officer's official list of candidates:
Nigel Bakhai, Liberal Democrats
John Sydney Cartwright, The Official Monster Raving Loony Party
Sati Chaggar, English Democrats - 'Putting England First!'
Salvinder Singh Dhillon, Respect - Peace, Justice, Equality
Sarah Janet Edwards, Green Party
Kuldeep Singh Grewal, Independent
Tony Lit, David Cameron's Conservatives
Yakub Masih, Christian Party 'Proclaiming Christ's Lordship'
Jasdev Singh Rai, Independent
KT Rajan, UK Independence Party
Virendra Kumar Sharma, The Labour Party Candidate
Gulbash Singh, Independent
Result: General Election May 2005

Current Cand.
Party

2005

2001

Piara Khabra
Lab

22,937

22,239

Nigel Bakhai
Lib Dem

11,497

4,680

Mark Nicholson
Con

10,147

8,556

- (prev. A.Lit)
Ind

-

5,764

Sarah Edwards
Green

2,175

2,119

Malkiat Bilku
WRP

289

-
Cameron Visits as By Election Race Begins
Row Over Comments on MP's Death
Participate
Sign up for our free newsletter

Comment on this story on the Ealing forum
Labour's defence of the Ealing Southall constituency has taken a major blow with the defection of 5 local councillors to the Conservatives.
They include Gurcharan Singh who was hoping to be selected to contest the seat but failed to make the short-list to be the Labour candidate. It had been rumoured he would stand as an independent but he is now backing Tony Lit.
The Conservatives will be hoping that the defections will boost their share of the vote in areas in which they have traditionally struggled particularly amongst the Sikh community
The other councillors to defect are Manjit Singh, Maninder Kaur Keith, Jarnail Singh Jandu and Jagdish Gupta
The defections will also substantially boost the Conservative majority on Ealing Council which they won against expectations in the last borough election.
In a statement the five councillors said, "It has become increasingly obvious as this by-election campaign has progressed, that the Conservative candidate Tony Lit is the best person to represent Ealing Southall as our next MP. He's energetic, dynamic and displays the kind of qualities that would make him ideally suited to represent the people of Ealing Southall. We wanted to provide him with our backing and joining the Conservative Party sends the clearest possible message.
Locally since Conservatives took control of Ealing Council in May 2006 we have noticed that they have been making great strides towards trying to improve the quality of life for all our residents. We've finally reached the stage where it has become blatantly obvious that we would be doing own voters a great disservice if we continue to dogmatically stick with a disorganised and divided Labour Party. Our goal is to see genuine improvements for our residents. We believe that the Conservative Party now provides our community with greater opportunities and is genuinely interested in improving services for all."
Meanwhile, Kuldeep Singh Grewal, an independent candidate for the by-election,is now telling his supporters to vote Labour and another independent candidate - Golbash Singh - is now backing the Tories.
The by-election was triggered by the death of Labour MP Piara Khabra last month, at the age of 82.

July 10, 2007