Local residents told that QPR could start work next month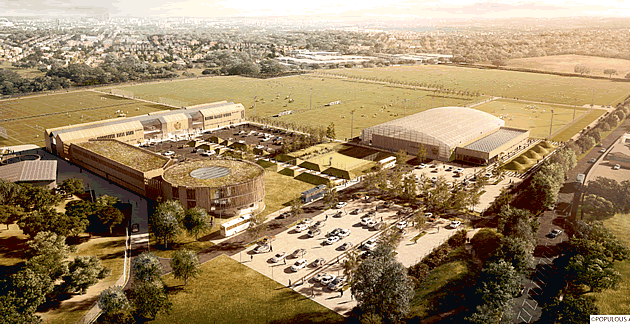 CGI of the planned facility at Warren Farm
Local residents have been notified about their intention to start construction work at Warren Farm in Hanwell.
QPR say that they are expecting to begin building the controversial new training ground as early as next month as part of a project that will reportedly cost £30 million. The first stage will involve demolition work and is likely to last for up to 6 weeks.
180,000m3 of soil needs to be brought to the site which the Warren Farm Sports Centre Interest Group says will result in up to 20 HGV movements per hour for up to a year beginning in June.
They will enter via a new entrance located between the existing entrance and the Aviary entrance on Windmill Lane.
Signposting will direct lorries off the A4 through Heston via Tentelow Lane or via Windmill Lane from the A4 at Gillette Corner to and from the site. Three Bridges has been marked as red on the plans so should not be used by HGVs.

Perimeter fencing is to be installed around the entire site preventing access to ensure safety while operations commence.
The 61 acre site is being leased to QPR by Ealing Council and they have plans for a multi-million pound facility which will allow their first team squad and youth teams to train at the same location. They currently use shared training facilities in Harlington.
Since they first raised the idea in 2013 there has been fierce resistance from some local residents but a High Court decision last year clear the way for the project to proceed.
As well as providing training facilities for the club the site will be used as a community sports facility with 11 grass pitches, three cricket squares and an indoor 3g pitch.
QPR in the Community Trust promises to run programmes for local youngsters at Warren Farm and the club will cover the operating costs of the community facility.

April 17, 2019