Supporters of ousted cafe owner claim there may be a conflict of interest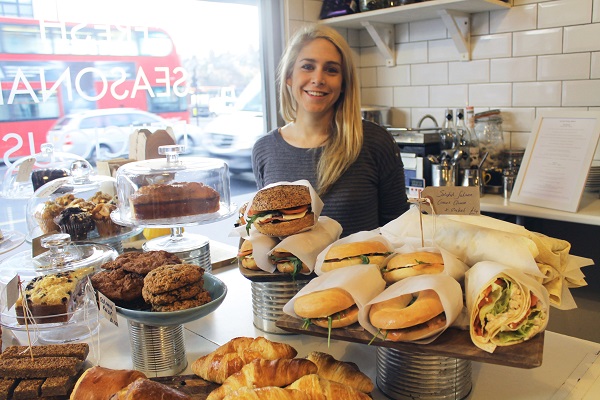 (Alex Head in her Battersea café)
Questions have been raised over whether there's been a conflict of interest in the appointment of a new catering operator for Pitzhanger Manor.
Last week Pitzhanger Manor & Gallery Trust (PMGT) named 'Social Pantry' as the winning bid for the kiosk which will be renamed Pitzhanger Pantry and new café – Soane's Kitchen which is still being built in the original walled kitchen garden.
The announcement was a huge disappointment for thousands who have supported the current kiosk operator Alan Dillon and his partner Sarah Benton who have run Spencer's Cafe for over nine years. More than 7,500 have signed a petition to try and save Spencer's which is due to close next week.
There's concern that the bidding process was unfair and supporters of Mr Dillon have revealed that the boss of Social Pantry, Alex Head, has family connections with the chair of the PMGT trustees, Sir Sherard Cowper-Coles.
They have copies of social media interactions between Alex Head's father Rupert and Sir Sherard Cowper-Coles.
They have also highlighted the fact that Sir Sherard and 4 other members of his family are listed as shareholders of Farmdrop, a company which supplies Social Pantry.
Letters have been written to the PMGT trustees, Ealing councillors, Council Leader Julian Bell and the Ealing Central and Acton MP Rupa Huq, querying whether a conflict of interest was declared prior to the new contract being awarded.
PMGT say there has been no conflict of interest. They don't deny that there are connections between the families but say Sir Sherard Cowper-Coles has no close links with Alex Head. He was a colleague of her father in 2003/2004 when they both worked in Saudi Arabia, however say the two men have not met since they both left Saudi.
PMGT also say that Sir Sherard was not involved in the first round of shortlisting and it was Ms Head who had informed PMGT of the connecton, Sir Sherard having been unaware. However when the board was asked to endorse the Social Pantry recommendation, Sir Sherard declared the connection and recused himself from the discussion and decision.
PMGT deny that there is a business connection between Sir Sherard's son Myles and Ms Head. They say he used to be an employee 'in the technical team of a company for which Ms Head did some promotion; he had no dealings with Ms Head in that period and left the company well before Pitzhanger's invitation to tender for the catering was issued.'
PMGT have not commented on information that members of the Cowper-Coles family are shareholders in a company which has commercial ties with Social Pantry.
Mr Dillon has to vacate Spencer's cafe on Monday but supporters are seeking to have the decision overturned.
April 27, 2018