Social Pantry will run two venues - the kiosk in the park and cafe in walled garden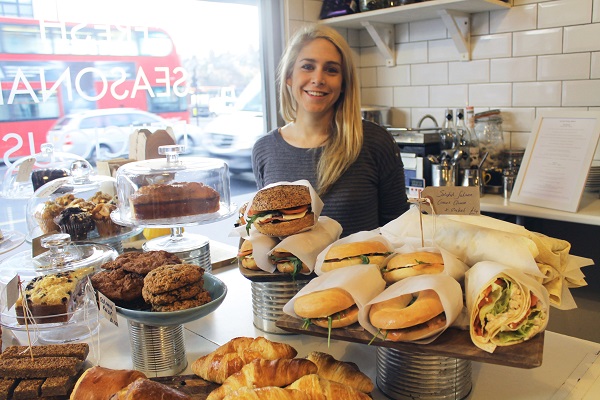 ( Alex Head in her Battersea café)
Pitzhanger Manor & Gallery Trust has announced the new operators for the cafe and restaurant in Walpole Park.
Despite huge support from the public and a petition signed by more than 7,000 people, Spencer's Cafe which has been run by Alan Dillon and his partner for the last nine years, will be taken over in May by Social Pantry.
Social Pantry will run both the kiosk in Walpole Park, which will be renamed Pitzhanger Pantry, and the new café – Soane's Kitchen which is still being built in the original walled kitchen garden.
Alex Head, founder and CEO said '' I am delighted that we have been selected to work with Pitzhanger Manor & Gallery Trust to provide fantastic catering for local Ealing residents and visitors from further afield, in Walpole Park and Pitzhanger. I founded Social Pantry in 2011 as I wanted to create a company that delivers well sourced, seasonal and accessible food. For me, as a business owner, my aim is to be as sustainable as possible whilst ensuring that every meal we deliver is as delicious as the last. I love to provide customers with an enjoyable and creative experience and I will apply these values at both Pitzhanger Pantry and Soane's Kitchen. Social Pantry will also be creating a calendar of community events at Pitzhanger Pantry.''
PMGT decided that Social Pantry 'would bring the skills, experience, enthusiasm and commitment needed to make a great success of the catering opportunities at Pitzhanger over the next five years, and to deliver two welcoming venues for customers'.
Clare Gough, Director of Pitzhanger Manor & Gallery Trust, said, '' Over the last seven years, Alex Head has built from scratch a highly successful business offering innovative, high quality catering at reasonable prices. We were particularly attracted by the fact that Social Pantry manages to combine this quality with a strong social ethos in the sourcing of its ingredients, in its employment programme and eco-credentials. After seeing what Alex has achieved in past ventures we have high expectations for the excellent service Social Pantry will offer to the users of Walpole Park and all those who visit Pitzhanger.''
Local residents are disappointed Mr Dillon lost his lease and have been expressing concern over the prospect of increased prices at the park kiosk.
Mr Dillon said, ' We've been interested to hear about the new appointment. We're concerned that if Social Pantry's prices in the kiosk café are going to be similar to those in their other outlets, the kiosk may move out of the reach of a number of its current loyal customers. PMGT states that its aim is to serve the Ealing community but it's difficult to see how charging local people higher prices would serve that objective. Also by appointing Social Pantry to run both the kiosk and the new garden room restaurant, it takes away choice and variation for the community.But it seems there may be more serious and complex issues to explore with regard to this appointment and we are looking into those.'

April 25, 2018 ( updated 20/04)