Anger as Pitzhanger Manor Trust tell long serving operators they lost the tender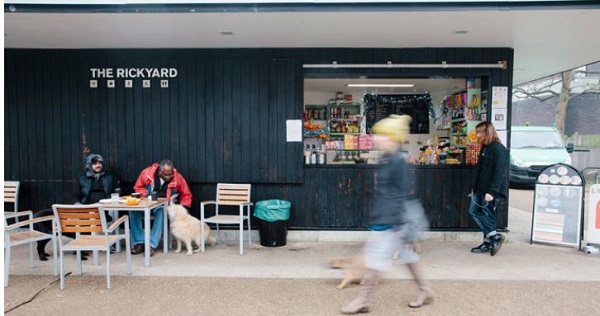 The owners of Walpole Park's only cafe are in shock after being told they have lost the lease.
Alan Dillon and his partner Sarah have been providing a service in the park for nearly ten years, first as Spencer's which has been described as an ' Ealing institution' and now in The Rickyard.
Ealing Council was previously the landlord but Pitzhanger Manor Gallery Trust (PMGT) have signed a 25 year lease with the council to run the park. The house and gallery are currently closed and undergoing a major renovation and conservation project, and will reopen again in late 2018.
PMGT asked for tenders for the commercial outlets and Mr Dillon has just been informed that his bid was unsuccessful.
He says: '' We are beyond devastated. I have built this business from nothing & with sheer hard work & am now expected to just hand this over to a new tenant, losing not just my livelihood,but those that work at the cafe.''
Locals and customers have also been shocked by the news and a petition to save the cafe has been set up and now has over 3000 signatures.
Mr Dillon writes: '' For those of you who know the cafe and us,we open every day of the year including Christmas Day. We are expected to walk away from our business in the next few weeks we will effectively be out of work. Our lovely staff will also be out of work.''
Park users are appalled and comments on the petition include:

'' This smacks of some very underhanded treatment towards those who run the café.''
'' This action without consultation is incredibly harsh, let alone a foolish business decision. Don't let this cafe and its staff be shunted out with only weeks' notice right before the holidays! I will personally refuse to patronize any new food outlet inserted in its place if this goes ahead.
'' This is a brilliantly run cafe so why on Earth have Ealing council not extended its lease & worse still given the opportunity to someone else?? This is outrageous!!
Trustees of PMGT include Ealing's Council Leader, Julian Bell.
We received this statement from PMGT:
'' Alan Dillon has a lease from Ealing Council to operate the Kiosk in Walpole Park which expires in early 2018. Pitzhanger Manor & Gallery Trust has to choose caterers to run the outlets in Walpole Park when Pitzhanger reopens to the public later in 2018. The Trust understands that Ealing Council kept Alan Dillon fully informed that the operation of the Kiosk would be put out to tender by the Trust for the period after his lease had expired.

''We are well aware that that the Kiosk is a popular part of the life of the Park community. Alan Dillon and his team have provided good service since the previous café closed during the renovation work. That was why Mr Dillon was warmly invited to take part in the tender process run by the Trust. On 3rd October 2017 the Trust thus issued to Alan Dillon and others a formal
invitation to tender for the catering outlets in the Park. Mr Dillon duly responded.

'' The Trust would not normally disclose confidential matters such as tender results but Mr Dillon has chosen to put this into the public domain. We regret that Mr Dillon's bid did not score as highly against the advertised criteria as other bids. He was not therefore shortlisted for the second stage of the tender process. Like all the parties not selected for the shortlist, Mr Dillon was told by email.

''We understand Alan Dillon's disappointment that he was not successful in this competitive tender process, but the Trust followed carefully a publicised tender process.
The Trust must do what it believes to be in the best interests of the wider Ealing community and of the success of the Manor & Gallery when they reopen for the benefit of the whole community.''
An Ealing Council spokesperson said:

'' The council made Mr Dillon aware of plans to transfer management of the Rickyard to the Pitzhanger Manor & Gallery Trust three years ago. At this time he was also made aware that his current lease to operate the kiosk would expire on 31 January 2018. The Pitzhanger Manor & Gallery Trust is managing the tender process and will make the decision on which operator manages the kiosk."
6th December 2017 (updated)