Looking back at what has opened (and shut) in 2010
Related Links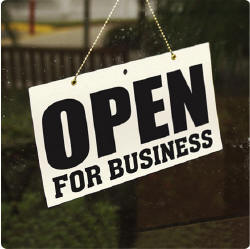 If you eat out in Ealing in 2011 please add your feedback to the services directory , comment on the forum or send me a review for publication.
Participate
Sign up for our free newsletter
Comment on this story on t he
At the beginning of the year the ever popular Carlucchio's in Ealing Green was revamped and we ran a competition to celebrate.
Chandlers pub in the City Centre unfortunately became a victim of the recession and closed its doors. More Pub Closures In Ealing

In February a new Italian pizzeria 'Eatalian's' opened in the space left by Oporto : Pretty Perfect Pizza

The Haven pub in the City Centre closed for a while but it wasn't clear why The Haven - Not an Open/Shut Case (it has since reopened).
The Council decided to Close The Book on The Literary Festival saying there wasn't enough demand and it wasn't 'value for money'
In March another pizzeria opened Santa Maria - A Slice of Naples in Ealing and went on to win an award I'll Have A Slice of That!

When One Door Closes...Ethel Austin closed in West Ealing but New Look confirmed it was opening in the town centre New Look For Ealing Broadway
Monty's in the centre closed and the March of The Pound Shops continued as Poundland opened in Ealing Broadway.
West Ealing traders featured on TV and we worried about the future for local high streets Shop Closures - Images From West Ealing

The Council stepped in to take legal action after work was abandoned on the town centre site Empire Cinema

The vacant Daniels store in West Ealing stayed boarded up Local Health Care Centre Plans Fall Through and Ealing's main post office moved to WH Smith Consultation? What Consultation?

The Brazilian Churrasco restaurant Fogo closed down Fo..Gone Conclusion? - Ealing hadn't supported it said the owner.
There was better news in September when Cote opened in Ealing Green Bon Appetit! and The The Baroque Pub Had a Revamp
and not forgetting Ealing's latest The Grove (Finnegan's Wake) Tested just before Christmas
What will open and close in 2011 I wonder?
29th December 2010