Ealing's Post Office move is a done deal
There are concerns that a 'consultation' about the relocation of Ealing's main post was no more than a sham.
The six week 'consultation' period - and deadline for comments about the move to WH Smith - ended on June 11, but the High Street branch has already been cleared of stock and staff have been told they will be moving into the new location by August 2nd.
The MP for Ealing Central and Acton, Angie Bray,has outlined her concerns in Parliament. Speaking to the Leader of the House of Commons, Sir George Young, she said:
''I wonder whether the Leader of the House is aware that, in Ealing, the Post Office is engaging in yet another consultation on a major proposal to close down a post office in one place and move it to another.
''Even while the consultation is going on, it appears that some of the preparatory building work is taking place at the proposed site. I wonder whether we can have a further look at how the Post Office conducts some of these so-called consultations.''
Sir George has promised to raise the issue with the Secretary of State for Business.
Angie has also raised the issue with the Chief Executive of the Post Office and with Consumer Focus.
The Post Office say they need to move to safeguard services and the new branch will have improved facilities.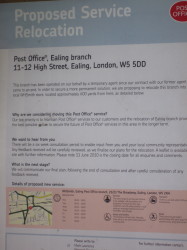 For more information, call 08457 22 33 44, textphone 08457 22 33 55 or visit www.postoffice.co.uk
What do you think of these plans? Discuss on the forum
June 14, 2010