Part of London-wide operation against 'violent and sophisticated gang'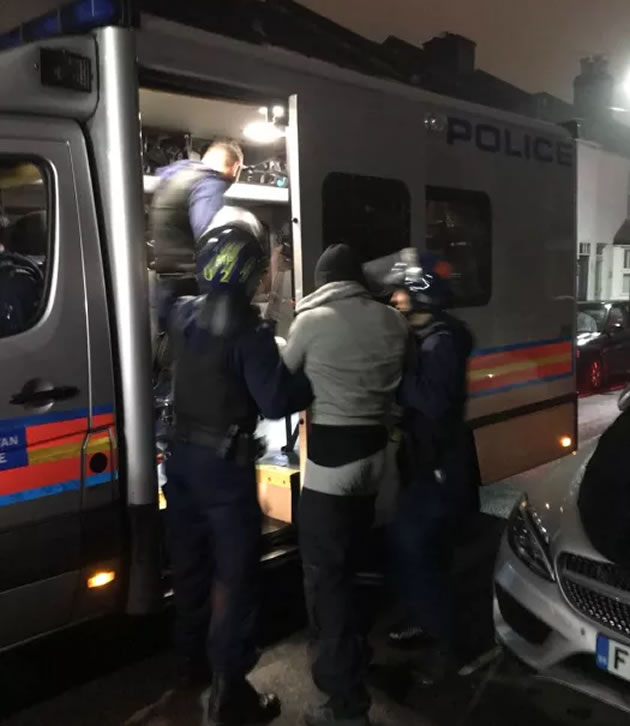 Police detain a suspect after one of the raids
Cressida Dick, the Metropolitan Police commissioner, joined armed officers in the early hours of this Thursday morning (12 April) as a series of co-ordinated raids were launched.
She was present when her officers entered a property in Blenheim Close, Greenford and arrested a 28-year-old man on suspicion of conspiracy to supply Class A drugs. In addition a property in Dorchester Close, Northolt was arrested and a 29-year-old man arrested on suspicion of conspiracy to supply Class A drugs.
Warrants were executed at eight addresses with six men and three women, aged between 14 and 49-years-old, arrested for a range of drugs and firearms offences. Raids included properties in Brentford and Fulham.
In addition to the arrests, a number of items were seized from the properties, including a sub-machine gun, a hand-gun, ammunition cash and large quantities of what are believed to be Class A drugs.
More than 200 officers from units across the Met took part in the raids which were led by the team from Operation Viper. The arrests were made as part of an intelligence-led, five-month operation targeting a violent and sophisticated gang operating in West London which is believed to be involved in drug supply across the city.
Officers used a range of covert and overt tactics to identify and target high-level, violent offenders. The operation was supported by the Trident and Area Crime Command, borough officers and other specialist units, including firearms officers, from across the Met.
Commissioner Cressida Dick, said, "Tonight, after some really good, strong work over the last few months, we were in a position to go out and execute warrants in relation to a number of people.
"They are very violent - several of them have a history of violence. One at least is suspected of regularly using firearms and they are being arrested on suspicion of conspiracy to supply crack cocaine and heroin.
"Not only have they been, as it appears to us, supplying crack cocaine and heroin but they've been making a huge amount of money doing it.
"They've been using violence, they've been exploiting vulnerable people and very young people, as young as 14, have been engaged in the drug dealing operation, so they need to be locked up.
"People like this, who may appear to have been operating with impunity for a period of time, cause devastation and fear. It sends a very strong signal to the public, who are very supportive in the police in these sorts of operations, that we are putting a lot of effort into carrying out work like this."
Six males and three females all remain in custody at a west London police station.

April 12, 2018