Unprovoked attack on 22-year-old man being treated as attempted murder
An image has been released of a man police wish to speak to in connection with a stabbing which took place near Hanger Lane.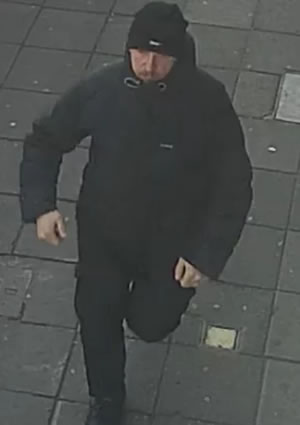 Image of man police wish to speak to
On Thursday, 22 March at around 3.34pm on Norbreck Parade, a row of shops adjacent to the North Circular just north of the Gyratory a man entered offices and stabbed a 22-year-old man.
The attacker ran off towards Lytham Grove and Cleveley Crescent.
The victim was taken to a central London hospital. His injuries were later deemed as being not life threatening and he was later discharged.
Officers from Ealing CID are investigating and are treating the incident as an attempted murder.
DC Leanne Ticehurst, leading the investigation, said: "This was a shocking unprovoked attack on a young man in his place of work. The victim thankfully did not sustain serious injury, but the outcome could have been far worse.
"Enquiries into the circumstances continue, and it is important that we trace the attacker as soon as possible.
"If you recognise the man in the picture, we could urge you to call us right away and give us a name."
The man is described as a white male aged 35-45, with an Eastern European accent. He was wearing a black beanie hat, black jacket and dark boots and trousers.
If you have information that may assist the investigation, call Ealing CID on 07825 114 094 or 101, quoting 4909/22march. Alternatively, call independent charity Crimestoppers on 0800 555 111 if you could prefer not to give your name.

April 7, 2018