This site has no political affiliation and welcomes contributed views from all mainstream political parties.
2010 Ealing Elections Deliver Shock Result - Labour Win
2010 Ealing Elections: Local Results


Click on map to get details of Councillors and the voting in wards for the last election

The Wards which cover Ealing and elected Councillors 2010

2010 Ealing Elections: Local Results

Results of General Election 2010

There are three constituencies covering Ealing: Ealing North to the north of the Uxbridge Road held for Labour by Stephen Pound, Ealing Southall, which also includes Ealing Broadway and South Ealing the MP is Virendra Sharma (Labour) and the new seat of Ealing Central and Acton which was won by Angie Bray (Conservative).
To see detailed maps, click here or to find constituencies by postcode, try clicking here. As the MP's point out, please check that you have the right MP before contacting them, if you don't want unnecessary delays.
To contact Steve Pound: Telephone 020 7219 1140/4312 . Fax 020 7219 5982
E-mail: stevepoundmp@parliament.uk
Write to: Steve Pound MP, House of Commons, Westminster, SW1A 0AA
He also has a web site: www.stevepound.org.uk (but don't email him from there - use the email address above).
Surgery: Mondays and Fridays, except public holidays.
Virendra Sharma - Telephone (Parliament): 020 7219 6080
Telephone (Constituency Office): 020 8571 1003
Email: virendra.sharma@ealing.gov.uk
Angie Bray - Constituency Office number: 0208 810 0579
Parliamentary Office number: 0207 219 7055
Email: angie.bray.mp@parliament.uk

How to contact your local political parties
Ealing Liberal Democrats - Serving the three Ealing Parliamentary Constituencies of Ealing North (incl. Greenford, Northolt & Perivale), Ealing Southall and Ealing Central and Acton
Ealling Southall Conservatives - Address: Conservative HQ, 39 Broughton Road, Ealing, W13 8QW esca@breathe.com Phone: 020 8567 2602

Ealing Common Branch Labour Party represents the interests of Labour Party members and supporters in the Ealing Common Ward. - Meetings are held monthly on every third Thursday. Contact Branch Secretary Kevin McGrath on kevinmcgrath@reit.co.uk.
The Greater London Assembly
We are in the Ealing and Hillingdon Assembly Constituency. In 2012 Dr. Onkar Sahota was elected as the Labour candidate for this seat replacing Richard Barnes, the previous incumbent, who was a Conservative representative.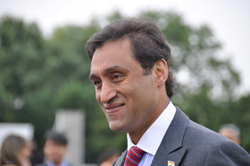 Website: www.dronkarsahota.com
E-Mail: contact@dronkarsahota.com
London Assembly election, 2012: Ealing and Hillingdon

Party

Candidate
Votes
%
±%

Labour

Onkar Sahota

Conservative

Richard Barnes

Liberal Democrat

Michael Cox

Green

Mike Harling
UKIP
Helen Knight

BNP

David Furness

National Front

Ian Edward
Majority

3,110

Total formal votes

163,809

98.4

Informal votes

2,703
1.6
Turnout
166,512
37.9

-6.2

Labour

gain from Conservative
London Assembly election, 2008: Ealing and Hillingdon
Party
Candidate
Votes
%
±%
Conservative
Richard Barnes

74,710

42.2

+9.8

Labour
Ranjit Dheer

46,072

26.0

+1.5

Liberal Democrat
Nigel Bakhai

18,004

10.2

–6.6

Green
Sarah Edwards

12,606

7.1

+0.5

National Front
Ian Edward

7,939

4.5

N/A

Christian

(Christian Peoples)
Mary Boyle

5,100

2.9

+0.7

UKIP
Lynnda Robson

4,465

2.5

–8.0

Left List
Salvinder Dhillon

2,390

1.4

N/A

English Democrats
Sati Chaggar

1,853

1.1

N/A

Majority

28,638

16.2

+8.3

Turnout

176,924

44.1

+6.8

Conservative

hold

Swing

+4.2