Andrezei Kunowski, a 48 year old Polish National from Twyford Avenue in Acton has been convicted of the murder of 12 year old Katerina Koneva (pictured right) in her own home on 22nd May 1997.
Police are now investigating possible links between Kunowski and the disappearance of two women from the Ealing area and missing teenager Milly Dowler. Police have been questioning Kunowski about Thames Valley University student Elizabeth Chau who vanished near her home in Ealing five years ago and Lola Shenkoya who went missing in the area January 2000.
Kunowski followed little Katerina during her journey home from School and gained entry to the family home in Iffley Road, Hammersmith on Thursday 22 May 1997. He barricaded the living room door and proceeded to strangle Katerina with a ligature, which he had formed into a garrotte.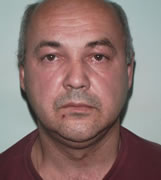 Kunowski (pictured left) was disturbed by her father, Trajce Konev, when he returned home. Trajce found the front door of his home open, and the door to the first floor living room jammed shut. Kunowski fled the scene by jumping from the first floor window. He then ran off with Mr Konev in pursuit. From the family home in Iffley Road, he ran into Hebron Road, Agate Road, then Amor Road, and through a builder's yard where he was captured on CCTV camera.
Kunowski then ran through Hammersmith Grove into Trussley oad where he hijacked a black Fiat Uno, threatening the woman driver with a knife. Because of heavy traffic he then abandoned the car and got on a bus which took him to Hammersmith Broadway, where he was last seen.
Mr Konev, who believed he had disturbed a burglar, gave up the pursuit after Kunowski pulled out the knife. When he returned home, after gaining entry into the living room, he found Katerina's body lying lifeless on the floor. Her hands were by her side and the ligature was still tightly around her neck.
Police issued numerous appeals to the media and via Crimewatch. Eventually in May 2003, Kunowski was convicted of a rape that he committed in Acton in September 2002. He received nine years imprisonment at HMP Belmarsh who submitted Kunowski's DNA to the national database.
Andrezei Kunowski's DNA was identified as that found on Katerina's clothing, as she lay in the living room of her house in Iffley Road, 5 years earlier. Kunowski was sentenced to a whole life order term imprisonment. The judge ordered he be kept in prison until he dies.
Katerina's mother said after the verdict that knowing Kunowski was in prison was not enough for her and condemned him for his arrogance in pleading not guilty. She added, "I find it impossible to understand how he was allowed into the UK to commit this crime. I am aware that he had serious criminal convictions and impending prosecutions in Poland. Something must be done to ensure that such a thing does not happen again." She had praise for everyone involved in the investigation and said if it were not for everybody working together then this result would not have been possible.