Industry report highlights the area as booming
A new property report spotlights Ealing as a prime location to live and claims that housing in the area is better value than Chiswick.
Research by Savills, says that the average price of a terraced house in central Ealing is £718,004 but when compared to more 'established prime locations' such as Chiswick, Ealing offers good value for money, especially for families looking for a larger property.
They state that because Ealing is also a major retail and commercial centre and the continuing regeneration and investment - much of it as a result of Crossrail project - means young professionals and families are continuing to be drawn to the area.

Comparing the cost of a semi-detached house in Ealing and Chiswick the report says you would pay on average 46% less to buy in W5 as opposed to W4.
It's cheaper to rent in Ealing too. According to Rightmove the average monthly rent is £1,396, lower than Chiswick where you would pay £1,741.
According to the 2011 Census, the largest employment industry for people living in Ealing is the Professional, Scientific and Tech sector (closely followed by the Information and Communication sector). It's forecast that over the next five years employees in this category will increase by 15.6% to become the largest employment industry in central London.
Donald Collins from local estate agents Go View London says Ealing is booming.
''There is no doubt that Ealing has gone through significant growth in recent years. In May 2012 a report commissioned under the Crossrail banner stated the market would move up 25% to the start of Crossrail, it was deemed 'optimistic' by some commentators at the time; the market has moved up 35% already and Crossrail is still 3 years away.''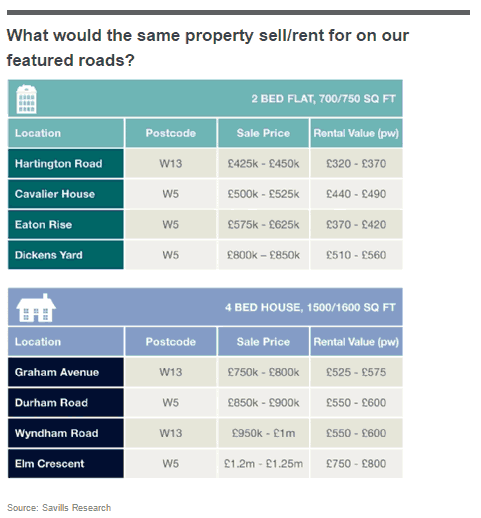 Looking ahead the Savills report highlights plans for the Arcadia Centre, Ealing Broadway Shopping Centre and Ealing Filmworks which it says will further regenerate the town centre.
Kirsty Lemond, from Savills Research says, ''Ealing is well placed to attract investment from traditional and institutional investors.''

24th September 2015