And enjoy a meal at Zayka or La Cantina on them
There's never been a better time to sign up for EalingToday.co.uk!
We've teamed up with with two of Ealing's finest restaurants, Zayka and La Cantina, to offer new sign ups the chance to win a meal for two worth £40!
If you're reading this the chances are you've already signed up and have officially missed the boat. Don't despair. All you need to do is get a friend to sign up too and make sure they take you along when the prize comes rolling in!
Every subscription from today will be put in the proverbial hat and the winners picked out on the last Sunday of the month - 22 February.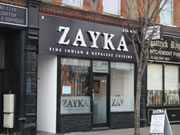 Zayka
Fine indian and Nepalese Cuisine
Open seven days a week
8 South Ealing Road
London
W5 4QA
www.zaykacuisine-cuisine-ealing.co.uk
La Cantina
Wood-fired oven pizzeria
29 Bond Street
ealing
W5 5AS
www.lacantina-ealing.co.uk
Joining ealingtoday.co.uk is free and has the following benefits
receive a free email newsletter with current local events and new features on the website
participate in our local discussion forum
place classified ads for free
add listings to our directory and give feedback on local services
Charlie Canniff
A room with a view - Charlotte's Place
'A sassy wine and intense sauces would make me come back for more'
Is The New Leaf on the Turn?
Ealing's oldest Chinese looks like it's seen better days
Telling It Like It Is - The Walpole
Great food with the perfect verbal garnish
Full English With An Italian Twist
Magnifica breakfast at Carluccios
Ealing Getaway Offer
Stroll down to Osteria del Portico and get whisked off to Italy
The Red Lion - King Of The Eats
Fiercely good food still gives Ealing restaurants a run for their money (and not just the gastros)
Farm W5 As Wholesome As Ever
Tucking in down on the farm
Lifting The Lid On Tapas At La Tasca
Hens and stags in, pollo and ciervo out
Ealing Park Tavern v The Grange Pub and Dining Rooms
Making a 'year of the pig' of ourselves at Maxims