Magnifica breakfast at Carluccios
Related links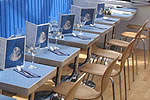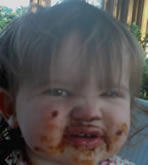 Would you let this loose in your restaurant?
Carluccio's Caffè
5-6 The Green,
Ealing W5 5DA
Tel. 020 8566 4458
Fax. 020 8840 8566

Open: Mon-Fri 8-11, Sat 9-11, Sun 10-10:30
Ealing Park Tavern v The Grange
Participate
Find out what others think of local restaurants on the forum
Before I begin I should admit that I'm a snob when it comes to the 'fry up'. And by that I mean I feel it would be a sacrilege to eat one anywhere other than in a greasy spoon.
So it was with some scepticism that I ordered the Colazione Magnifica on their breakfast menu – scrambled eggs, grilled pancetta, sautéed mushrooms, tomato, toasted ciabatta, juice and tea/coffee, all for a very reasonable £6.95.
My companions, two very much less discerning tweenies, went for the bread tin to share – various Italian breads and croissant with a delicious fig jam.
The only grease on the Carluccio's rendition of bacon and eggs is a healthy drizzle of olive oil on its griddled ciabatta. Yes, classic 'caff' the magnifica breakfast is not, because the ingredients used here were clearly of a very high quality; the coffee is naturally the real thing; the orange juice is freshly squeezed... Carluccio's has taken our love of bacon and eggs and run with it in the direction of Italy. And after a lot of wrangling with my inner slob, I have come to the opinion that there is definitely a place for a refined Italian cooked breakfast.
Who says you have to have your eggs fried and swimming in oil? Who says you have to swill it down with luke warm instant coffee? Don't get me wrong – I love all that, but while I wouldn't go so far as to say Italians do it better, at Carluccio's they make a magnificent job of it.
And what sealed this breakfast for me was the Carluccio's attitude to toddlers with attitude – the continental one. At times I felt tempted to throw out my young companions, who were themselves throwing all these fine ingredients at passers by (including bits from my plate which is inexcusable), but our long suffering waitress didn't bat an eyelid.
She has obviously become immune to the pain. That was perhaps her biggest mistake, as well as the good service, because I don't see any reason to inflict that pain on any other breakfast establishment - Carluccio's here we come.
Note to parents: I've heard tales from mums that they were eventually moved on when unruly children at last outstayed their welcome, but we're talking months. You have a stay of execution until they start putting parents' faces to brats, so my advice is to use this ungreasy caffè well - often!
Charlie Canniff
May 10, 2007