Stroll down to Osteria del Portico and get whisked off to Italy
Related links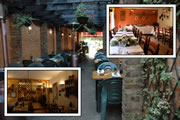 Osteria del Portico
7a The Green
High Street
Ealing
W5 5DA
Tel 020 88403297
Participate
Find out what others think of local restaurant on the forum
You name a country, I'll name a franchise offering their own take on its cuisine. But how ever many of the old stereotypes they reproduce, it's never quite like the real thing. And most of the time it's their attention to detail that lets them down.
At Osteria del Portico, its effortless. As you step through their Portico you're transported out of Ealing and off to a place where the stresses of London life don't matter all that much – a kind of cheap city break experience. I know because I walked in stressed and left there with a smile on my face, and it wasn't just the wine.
The Osteria is set back from the street, and the walk up the outdoor seating area to the restaurant sets it apart from other restaurants in Ealing. As we walked in we apologised for being late for the booking. We needn't have worried - the owner smiled welcomingly and showed us our seat.
The tiled dining area is scruffy in an appropriately Mediterranean way. Why is it that 'shabby' on the continent is easy on the eye, where in England it would make you check your cutlery for caked-on food?
We were brought olives and bread by a friendly waitress as soon as we sat down – a nice touch. We went for a starter that was recommended for sharing – Stuzzicherie (£14.50) chef's choice of hot and cold bits. It proved an excellent choice with something for both of us – marinated aubergine, courgette, calamari, king prawns and something that I am convinced was lamb but my companion argued was veal. It was lamb. All delicious.
I'm not very proud of our main course choices. Veal, wild boar, and red mullet were just a few of the fabulous-sounding dishes on offer and I went for... pizza. There was method in my madness though – it's not often I find a restaurant that lists my favourite pizza without lengthy ingredient bartering – 'I'll take the olives from your Pepperoni, you take the pepperoni, I'll take the ham, but only if you take the pineapple' etc etc. So Quattro Stagioni (£9) it was – ham, artichoke, mushrooms and olives. And it was good – I would probably rather Quattro Stagionis didn't come in four quarters and the ingredients were simply thrown on randomly. But then you couldn't call it Quattro Stagioni!
My partner in crime went for his favourite dish of all time, but this time there was some bartering to be done. Costoletta milanese (£16.50). In the past he's had it with spaghetti rather than potatoes and vegetables and since the menu invited people to 'ASK US' for something not on the menu, he did.
Good job he did. "This is one of the best versions I've ever had in my life." Quite an endorsement from someone who could make a specialist Mastermind subject of the dish.
We washed down our food with first the house red, not best but not the worst.
Authentic Italian food at its best. I'll book in for a fortnight next time.
Charlie Canniff
May 15, 2007