Northfield Avenue was THE place to be on Saturday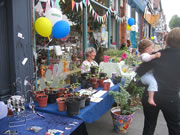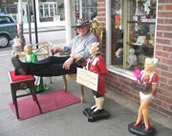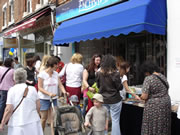 Saturday was all about 'Making The Most of Northfields' and there was more than enough to go round.
When Northfield Avenue Businesses & Traders Association (NABTA) decided to build on their Christmas success even they couldn't have anticipated such a huge one!
"Northfields was really buzzing as hundreds of locals flocked to enjoy an afternoon of fun and festivities," said NABTA Chair, Malcolm Todd.
Six hundred balloons, bunting and traders in Hawaian costume set the scene.
The event was designed to draw attention to the huge variety of shops, businesses, and cafés that Northfields has to offer, and to raise money for NABTA's adopted charity, The Log Cabin, which also staged a fun-packed Open Day.
Events included food tastings, fruit punches, live music, stalls, mural painting for kids, treasure hunts, limbo dancing, cake and gingerbread decorating, face painting, massage, alternative therapies and street entertainers. Neighbourhood groups like the Questors Theatre, West Ealing Neighbours and the Neighbours Paper were there in strength too.
NABTA joint organiser Marcelle Todd, of CraftWorks commented, "This event followed on from NABTA's incredibly successful 'Christmas On Northfields' event held last December. We're seeing a real sense of community spirit on Northfields - and we've raised loads of money for The Log Cabin! After the success of this summer fun day, we're already planning our next event for this Christmas."
Joint Organiser Joy Hynes (Hynes Optometrists) added, " We walked the length of the Avenue, talking to every single business, encouraging them to take part. It was a huge amount of work by everyone associated with NABTA. And on the day, the results were just fantastic!"
A forum posting summed up the public response to the day: "Today was fabulous, a big thank you to all who helped organise this day..... Great sight to see, all the balloons and stilt walkers, kids with painted faces and the lovely smells from outside the Polish deli."

June 11, 2007