And Ealing Summer 2007 has a few new strings to its bow
Related Links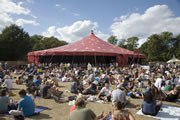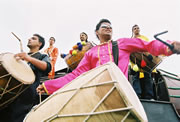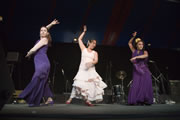 Participate
The box office for the Ealing Comedy Festival and Opera in the Park will open Friday, 1 June, telephone 020 8825 6277.
To be sure not to miss out on tickets and to receive information on line-ups, email eventsmarketing@ealing.gov.uk to join the Ealing Summer mailing list.
You can also keep up-to-date by logging on to www.ealing.gov.uk/ealingsummer.
If all the big names in comedy, jazz, blues and world music weren't enough for you, this year's Ealing Summer Festival sees an even bigger programme of al fresco events, including two new festivals.
This year will see Opera in the Park and the Ealing Literary Festival joining the throng. Opera in the Park will debut with Bizet's Carmen performed by the renowned Opera A La Carte, while the Literary Festival will bring together established and emerging authors.
Councillor Nigel Sumner, Cabinet Member for Health and Community Well Being, said: "Ealing Summer is a vibrant mix of music, art, food and performance staged in the heart of West London. Ealing Summer truly is a festival of the people with a diverse range of acts offering something for everyone, in a family-friendly environment."
Here's the line up for the festival
The relaunch of the Greenford Carnival
7 July
Ravenor Park, Greenford
Cost: £1
The rich and diverse cultures found throughout Greenford will be the inspiration for this year's Carnival, with a vibrant and varied programme of events, including a funfair, food and art market, performances and demonstrations of Caribbean, Bollywood, Bhangra, Salsa and Latin dancing.
Ealing Comedy Festival
13, 14, 15,18,19 and 20 July
Walpole Park, Ealing
Cost: £16
Ealing Comedy Festival has grown to be one of London's leading comedy events, with sold-out shows from headline acts and the big names of the future. This year, Lee Hurst and Lee Mack will join us under the famous Big Top.
Opera in the Park
16 – 17 July
Walpole Park, Ealing
Cost: £20
This year sees the debut of opera as part of the Ealing Summer programme. Produced by Opera A La Carte, Walpole Park will provide a stage for George Bizet's Carmen.
Blues Festival
21 July
Walpole Park, Ealing
Cost: £1
This year we celebrate the 20th anniversary of the blues festival and to mark the birthday Manfred Mann's Paul Jones tops the bill.
Global Festival
22 July
Walpole Park, Ealing
Cost: £1
Entering its second year, this is a vibrant celebration of music from around the globe. Highlights of 2006 included Ska Cubano and La Xula.
Jazz Festival
25 – 29 July
Walpole Park, Ealing
Cost: £1
This internationally acclaimed festival is now in its 22nd year and attracts big bands, the big names of jazz, as well as up-and-coming performers.
The London Mela
12 August
Gunnersbury Park
Cost: Free
London's largest Asian cultural festival enters its 5th year. With more than 50,000 spectators, this is one of the most colourful and vibrant festivals in the country. With a number of stages ranging from classical Asian music to the new beats on the Radio 1 stage, there is something for everyone at this family event.
Literary Festival
1 – 2 September
Acton Green Common
Cost: Free
Another new festival added to the Ealing Summer calendar which will bring together established and emerging authors.
May 23, 2007