Exciting new concept in kids' 'stuff' shopping hits Ealing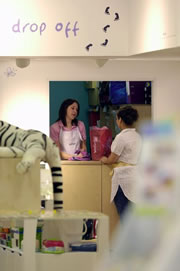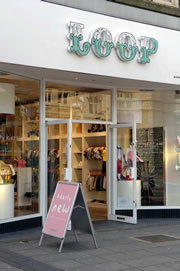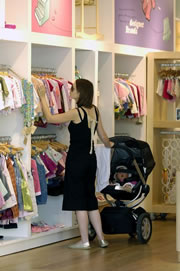 It's not often you go shopping and walk out with a quid or two... The revelation at new kids retailer Loop is that they don't just sell everything a new parent could need - they buy it all back when it becomes clutter.
Second hand children's clothes shops do crop up from time to time, but on nothing like this scale, and with none of this store's polish.
It's the shop all Ealing parents are talking about so I decided to have a word with its founder, the original 'Loopie', Alice Whiteley.
"Having my son, Finn, made me realise that kids' stuff is outgrown long before it is worn out!" said Alice. "I began to think about all this great kids clothing, equipment, toys and more sitting around in cupboards. What a waste!"
"I created Loop as the answer to this problem for as many parents as possible. A store that has a sense of fun and style, where you can make some extra money selling your unused kit - or buy fantastic 'as good as new' designer products at less than half price!"
Of course it didn't all happen over night. Alice's background as a strategy consultant for McKinsey and then as a media executive for both FremantleMedia and Ealing Studios stood her in good stead for the mammoth task of researching the concept, finding the most viable 'first shop' location with extensive demographic research, and an instant price calculator for parents with products to sell.

And she was able to call on some pretty invaluable contacts she's made through the years. The fantastic shop branding was done by fellow Oxford University graduates Roly Grant and Philip Koh of Buro Creative. Website came via another contact at The Web Kitchen.

Then there was the small matter of funding! She raised the finance for her business through the only other shareholder Dominic Perks. Dominic is a fellow former McKinsey management consultant and a successful serial entrepreneur. Famous on Google for his wife's wedding shoes, Dominic has a few other strings to his bow, notably shopfitting company, Uno, which won him Business of the Year last year.

He gave Alice's venture the nod without hesitation and at the shop's launch yesterday told me he fully expects the concept to grow, with franchises cropping up across London, then Bath, the Home Counties and beyond...

Nothing about this shop could be said to be second hand, accept the bits that are! But that shouldn't put off even the most precious first timer as everything is carefully selected for its durability, style and of course safety. Add to this a smattering of new products, including washable nappies, soft shoes, gifts and accessories and you have the perfect yummy mummy's drop in.

The launch was a huge success – my daughter asked if she could 'come back again tomorrow' and I have a feeling Ealing parents will be making it, if not a daily, then a weekly drop in destination. All they need now is a coffee area. One for the next in the chain...

Charlie Canniff

June 14, 2007