See the blockbuster first at the Empire on March 18 - starring Alistair McGowan and Kulvinder Ghir
Related Links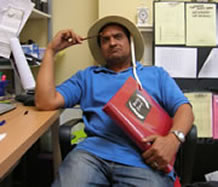 Participate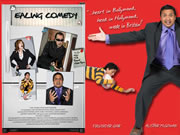 All premiere proceeds going too the Pitshanger YFC Clubhouse Development Fund.
Venue: Empire Cinema, Uxbridge Road
Date and Time: Tuesday 18th March, 7 p.m. for 7.30. Screening will start at 7.30 p.m.
Venue for After-Party: Princes Hall Function Room in the Town Hall (opposite the Empire Cinema).
Tickets: £12 per ticket, which includes the screening and 1 complementary drink at the After-Party, available from Empire Cinemas. People will need their ticket for the After-party to get their complementary drink.
There will be a cash bar at the After-party.
Blanchett Events will be offering a single item meal for £5. This will be a Meat Curry for non-vegetarians and a pasta dish or something similar for vegetarians.
A Brit-Asian film producer charges around the Queen of the London suburbs peopled by a host of off-beat Ealing residents trying to get a film financed. As he is rejected and spurned, his obsession grows. His life with his teenage son, his Irish wife, his formidable Indian mother, their struggles with money and trying to be a family are all woven together in a series of mad-cap events.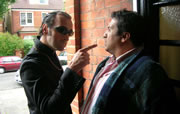 The film, "EALING COMEDY", (cert 12) directed and produced by Neville Raschid (former Pitshanger YFC U14 Team Manager) will have its world premiere screening at the Ealing Empire on Tuesday 18th March prior to its UK cinema release.
The film stars Alastair MacGowan and Kulvinder Ghir from Goodness Gracious Me.
This is a film with its 'heart in Bollywood, head in Hollywood, made in Britain.' It bills itself as a contemporary make-over for the 'ealing comedies' which centred on the quirky, zany British spirit. The setting is today's new multi-cultural, multi-ethnic Britain where success is still inexcusable. A Britain where they still take the winner's laurel leaves to make a salad for the loser. The script follows a Hollywood story-structure but applies it to very Bollywood themes in a totally British setting.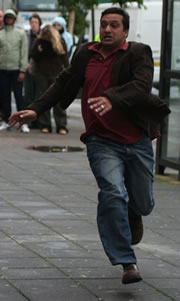 A Micro-Budget epic!
This is one of the new wave of Micro-Budget films using the latest digital technology. Made on a shoe-string budget, its producers say it's look and sound compares to films costing £2 million and more!
The film was made entirely through equity financing by intrepid British Asian producers, without any support from the UK film establishment – the UK Film Council, BBC Films, FilmFour etc.
Producer/director, and Ealing resident, Neville Raschid, told us a bit about what the film means to him: "Ealing Comedy is my personal celebration of the suburb in which I have been involved for over 25 years – the last 18 as a resident," said Neville. "My involvement with Ealing began in 1982 when I became an active member of the Questors Theatre."
"As I walked down Barnes Pikle connecting the Uxbridge Road to Mattock Lane, I used to dream about a film of mine screening at what is now the Empire Cinema."
On March 18th that dream comes true when Ealing Comedy screens at the Empire.
The film is entirely set in the borough, within 10 minutes drive of Ealing Broadway station!
Brentside School, St. Bendict's playing fields, the Uxbridge Road, St. Andrews URC on Mount Road, the Ramada Jarvis Hotel, Ealing Orthodontics, Questors Theatre, Pitshanger Lane and residences in Hillcroft Crescent and other Ealing roads are the film's locations.
All proceeds of the premiere of the film will go to Pitshanger YFC Clubhouse Development Fund. Neville became a manager of a Pitshanger team in 2004 and he says this has added 'a new dimension to his relationship' with the borough!
March 13, 2008