Shappi Khorsandi and Simon Munnery
Related Links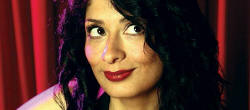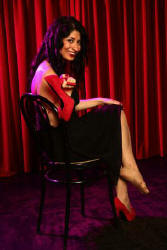 Shappi Khorsandi
Participate
Comedy Downstairs at the Drayton, Christmas Party, Wednesday December 16.
SHAPPI KHORSANDI, SIMON MUNNERY, Plus special guests with Phil Zimmerman as MC. Tickets £12.00 from www.wegottickets.com
The Drayton Court, 2 The Avenue, ealing W13 8PH.
Doors 8.15pm/show 9pm- 11.30pm Christmas dinner available: Call 0208 997 1019 to book. Comedy info: 7853 664877
DOWNSTAIRS AT THE DRAYTON celebrates the party season in style with two of our favourites acts - Shappi Khorsandi and Simon Munnery sharing the stage in the Christmas special on WEDNESDAY December 16.

It promises to be one of the best nights of the year, so if you haven't booked your Christmas booze-up yet, why not have it at the Drayton?

If you fancy Christmas dinner before the comedy, you can book it by calling the Drayton.0208 997 1019. ( Email if you would like us to send you the menu.)


Shappi Khosandi's career hit new heights last year when Channel Four viewers saw her steal the show amid a star cast in the Secret Policeman's Other Ball at the Royal Albert Hall, hot on the heels of her triumph on Live at the Apollo (ITV1). She is now becoming one of the biggest names on the comedy circuit.

The daughter of an exiled writer and comic from Iran, her upbringing has been in no way conventional and she recounts it the only way she knows how, with wit, warmth and hilarity. Feisty, flirty and effortlessly funny she handles every subject with a razor sharp wit and effortless charm.

Shappi has appeared on Have I Got News for You, on BBC1's Lenny's Britain and BBC4's Never Mind the Full Stops. She is also a regular contrinutor to BBC Radio 4 programmes such as Quote... Unquote, The Now Show, Just a Minute and From Tehran with Laughter.

She is a sought after cultural commentator appearing on ITV's Sunday Edition, BBC Radio 4's Woman's Hour, Radio 5 Live, BBC World Service & LBC and was even a panellist on BBC's Question Time.


The press on Shappi Khorsandi:

'Remarkable' The Independent

'The warmest, most engaging performance I've ever seen.' The Observer

'Don't be fooled by her innocent looks, she packs a deceptively powerful punch.' Evening Standard

'Britain's best young female comic by any yardstick'. The Guardian
'Her comedy stands alone,' Mail On Sunday.


'Great gags - delightful.' Chortle.


THE legendary Simon Munnery, also known by his stagenames of Alan Parker: Urban Warrior and The League Against Tedium, first pierced the mainstream both with his BBC Radio 1 show in 1997 and his BBC2 television series, Attention Scum! in 2001.
As 'The League' he often dons a hat crafted from a kettle and one of his standup shows is performed entirely with a metal bucket over his head.He is also the only comic in he world to have written a song a bout the Corby 500 Trouser Press. And very funy it is too.

"One of the most original and talented comics in the country" - The Observer on SIMON MUNNERY.

December 7th, 2009