What makes you laugh?
Related Links
Comedians Gallery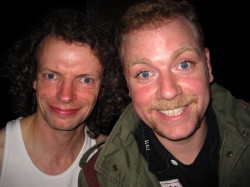 Phil Zimmerman and Rufus Hound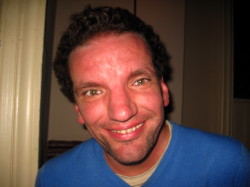 Henning Wehn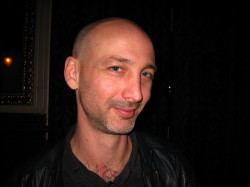 Michael O'Donovan
Lee Mack Downstairs at the Drayton
Participate
Comedy Downstairs at the Drayton,
Tickets £9.00 from www.wegottickets.com
The Drayton Court, 2 The Avenue, ealing W13 8PH.
Doors 8.15pm/show 9pm. Info : 07853 664877 or buy tickets at www.wegottickets.com
Comedy is a funny old thing. What makes one person laugh doesn't necessarily have the same effect on another.
There are some very good stand-ups on the circuit, but there are also very many bad ones – and watching someone die a death on stage is no joke.
Having seen Rufus Hound at the Ealing Comedy Festival during the summer I knew he fell into the former category and had no hesitation in heading to the historic Drayton Court (Ho Chi Minh worked as a dishwasher there - yes, I know) for a night of laughs.
The ambience in the venue is an important part in setting the scene and 'Downstairs at the Drayton' is as close to ideal as it could be. It's warm and cosy and just about the right size. A small bar means the drink flows, the conversation buzzes and the room is relaxed. The DJ here must be applauded as both the choice and level of the music was ideal for the audience and added greatly to the atmosphere.
Comedian - and anti-pigeon activist - Phil Zimmerman, established the Drayton comedy night nearly three years ago but says it wasn't easy:
'' Establishing a new comedy venue is a job of blood, sweat and tears. A lot of new clubs open but close pretty quickly. There were certainly times when I felt like chucking in the towel, but I kept at it and learned how to make it work.
'' The Friday night event started in February 2007, though I had been running a night at the venue in the small lounge room on a Sunday for around 18 months before that. We only used to get a couple with their guide dog as regulars for that, and when the dog started heckling me, I decided to knock it on the head. The night, that is, not the dog.''
The Drayton has gone from strength to strength and is now a desirable booking on the comedy circuit. Harry Hill and Shappi Khorsandi are among some of the names who have gigged there and this week is the turn of Lee Mack – already a sell out.
Zimmerman himself is a bizarre cross between Mick Jagger and Mr Bean. As the 'MC' he manages to get the audience on side with his combination of psychotic expressions and dreadful impressions, and, (in his words) is there to make the other acts look good.
Openers were Michael O'Donovan (a laid back and acerbic Australian) and Vusi who played it short and sharp and were just about funny enough. The main players were Rufus Hound and Henning Wehn.
Hound has built up quite a following over the last few years. This former Top of the Pops presenter and TV star is a confident and lively performer.
Sex, religion and politics are stalwarts of the stand-up, but nobody jokes much about politics these days (does anyone care enough?) so it's left to those fail safes - sex and religion. Religion is swiftly dealt with - there is no God so we should all make the most of the time we have here says Hound. He recommends lots of sex, well, he is actually more specific than that but I won't spoil it - go see his show.
I'd heard this 'sketch' before, always a danger when revisiting a comedian and I would have liked some fresh new material but it wasn't to be. Nevertheless, Hound gave an accomplished and intelligent performance and it's easy to see why his fan base is growing.
Closing the night was Henning Wehn, the self-styled German ambassador of comedy.
Capitalising on the myth that his nation has no sense of humour, Wehn delivers an act which challenges stereotypes. Deliberately trying to shock is a brave move and he did so by making references to the families of Madeleine McCann and Rhys Jones - but the atmosphere certainly cooled.
This type of uncomfortable humour may serve to make his political point about class differences but was it funny? In my opinion not particularly.
But perhaps I'm in the minority? Many others in the audience laughed proving that one style of humour will never fit all. Comedians do love to stretch the bounds of taste - think Jimmy Carr and his recent controversial paralympic joke.
Zimmerman says:
'''No two audience are ever the same. And each audience and the way it reacts to the performers is in a constant state of flux throughout the night. We've had some lovely audiences at the Drayton lately, though we've had a few crazy people too.
''There was the time when one lady in her fifties took exception to one of the acts and stood up and threw a bucket of ice over him before storming out in disgust. The comic came back on, it was Frank Sanazi, and continued his act to rapturous applause. And that was actually one of the best nights we've ever had there.'''
You may be too late for Lee Mack tickets but check out the other acts coming up soon
http://www.philzimmerman.co.uk/
Annemarie Flanagan
What makes you laugh? Is 'bad taste' acceptable?
Comment on this story on the forum
November 12th, 2009