Ray Peacock comes to Ealing this Friday
Related Links
Comedy and Curry Nights at the Watermans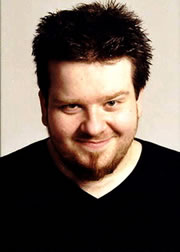 Ray Peacock
Participate
Comedy Downstairs at the Drayton
March 13
Ray Peacock, John Gordillio, and special guests, Phil Zimmerman Mc. Tickets £9.00 from www.wegottickets.com or on the door.
Show 9pm, doors, 8.15pm.

Tickets £9.00 from www.wegottickets.com concessions £6.00.
The Drayton Court, 2 The Avenue, ealing W13 8PH.
Doors 8.15pm/show 9pm.
Info : 07853 664 877

Hilarious northern comic Ray Peacock headlines Downstairs at the Drayton tonight (Friday March 13), ably supported by the superb John Gordillo.
Peacock is a prolific writer and comic performer who first came to prominence as part of the highly successful Big And Daft comedy trio, who enjoyed their own BBC London radio series, three consecutive years of sell-out Edinburgh Festival shows and their own series for the BBC's PlayUK, Terrorville.
Ian's character creation, the brash Yorkshireman Peacock, first made his debut at the Edinburgh Fringe in 2002 and has become a regular and familiar face on the live circuit. Ian's other TV credits include Skin Deep (Channel 4), Harry Hill's TV Burp (ITV1), Les Dawson's Finest Hour (Channel 4) and The 11 o'clock show (Channel 4).
The press on Peacock
"Hecklers be warned - take Peacock on and you might just spark off the second War of the Roses." - Metro

The press on John Gordillo
A superb comedian" London Evening Standard
"Brilliantly intelligent, often inappropriate" London Lite

Back on the circuit after a few years' hiatus, John Gordillo remains a refreshing performer, with a canon of intelligent, provocative material. He picks away obliquely and relentlessly at his subjects to find fresh jokes, taking comedy away from tried-and-tested formula into more unexpected terrain - yet always aware that cleverness comes a clear second to funniness" Chortle
"Inspired" Edinburgh Evening News

March 12, 2009