Ealing plays host to the UK's first ever Bollywood acting school
Related Links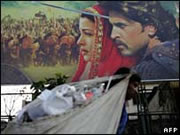 Participate
Bollywood via Ealing - not the obvious route to Bollywood stardom but nevertheless a direct one, thanks to a new course announced by the Ealing Institute of Media.
The school is a spin-off from the prestigious Actor Prepares academy in Mumbai, India, founded by Bollywood star Anupam Kher. He said he would like it to "become the springboard to launch schools around the world". Schools in Durban and Sydney are already planned.
Students will enrol on a three-month intensive course, taught by Bollywood actors and film-makers.
Kher said it was his experience while starring in British film Bend It Like Beckham, about a British Asian girl's love of football, that showed him "the enormous potential to build much stronger links between UK and Indian cinema".
The establishment is a partnership between Actor Prepares, Ealing Institute of Media and regeneration agency Heathrow City Partnership. The organisers are hoping the promise of tuition from visiting Bollywood luminaries will help fill places, despite the £2,000-a-month course fees.
"I am determined to tap into the local British Asian population's love affair with Bollywood and use this as a catalyst to create new skills, jobs and business opportunities," said Heathrow City Partnership's chief executive Ash Verma.
"In a globalised world where countries are becoming more interconnected, it makes perfect sense for the UK and India to use their shared passion for cinema to create something special to enrich both our nations," he added.
Students will learn martial arts, yoga, dance, music and, if they need it, Hindi, as well as diction, improvisation and acting on camera.
Although the school is in one of Britain's largest South Asian communities, it is intended to be open to all races. "There are Britishers who want to act in Bollywood films as well," Kher said. "Of course, the Bollywood section of the course will be prominent but it won't be the only thing we teach. There is a film tradition section, where we will show them great films from world cinema. Acting is becoming universal."
In the past ten years Bollywood has built a global audience bigger than Hollywood's by updating its traditional themes and shabby production values to appeal to Indians abroad and the middle classes at home. Estimates of its box-office turnover range as high as $5 billion (£2.5 billion), up from $1.5 billion in 2004. Last year Indian films sold 3.9 billion tickets in their home market alone.
March 7, 2008