TVU helps inspire school dinner ladies and the foodies of tomorrow

Related Links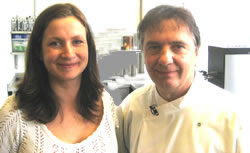 Top chef Raymond Blanc and EalingToday editor Charlie Canniff at the School FEAST launch
Participate
TVU's Pillars training restaurant is open to the public for lunch from Monday to Friday during term time, from 12:00 till last orders at 13:00. Evening meals are served on Wednesdays and Thursdays from 6pm till last orders at 7.15. Bookings can be made in person or by telephoning 020 8231 2200.
A NEW training initiative aimed at swilling out lumpy custard and cold chips from the school dining rooms of Ealing and beyond has been unveiled at Thames Valley University.
The Government has announced the creation of 16 bodies to improve the quality of canteen catering under the banner of the School FEAST network (Food Excellence And Skills Training).

And Ealing's university is right at the heart of the campaign, as one of the first in the country to become a FEAST site.

Backed by £200,000 of Whitehall cash, the partnership will offer more training to school chefs so they can prepare healthy meals for pupils from fresh ingredients.

The creation of the FEAST network has been spearheaded by the School Food Trust, a public body set up by the government in 2005 to transform the food eaten by pupils in dining halls across the country.

School FEAST partnerships and centres of excellence will be required to provide a "core offer" of training to chefs and kitchen assistants, including a basic award in "providing a healthier school meal service" and NVQ Level 2s in professional cookery, and food processing and cooking.

Secretary of State for Children, Schools and Families Ed Balls said: "School cooks are the heartbeat of our school food revolution – transforming lunches and children's health. They deserve the best training – they do highly skilled jobs giving millions of children nutritious dinners every single school day.
"These centres and our continued funding means they can brush up their skills or learn new ones, so they can prepare meals for their whole schools from healthy, fresh ingredients," he added.
Professor Peter John, TVU's Vice-Chancellor said: "TVU has always been very committed to providing quality education in shaping skilled chefs. Through this new initiative, we are training school cooks who will be feeding the politicians, doctors and lawyers of tomorrow."
The Mayor of Ealing, Mrs Hazel Ware, looked on as cooks from Harrison's Catering, which provides cooks for school kitchens across the borough, demonstrated their skills for the launch.Attendees at the launch witnessed Ed Balls MP join school cooks – with help from celebrity chef Raymond Blanc and Chair of the School Food Trust, Prue Leith - to demonstrate the type of meals they are being taught to prepare in schools.
Prue Leith said: "It's particularly fabulous to be rolling my sleeves up and preparing a meal with some of the cooks already training at TVU. School cooks play such a vital role in the health and wellbeing of our children. The School Feast network will help provide them with the training and skills they need to progress."
And she told EalingToday that parents in Ealing can do their bit to support the campaign by opting for school dinners. "Less people are eating school dinnes than ever," said Leith. "We need more bums on seats."
She pointed out that it has taken our childhood obesity crisis for change to finally happen. And Raymond Blanc pledged to do everything he can to support the campaign. "We have a collective responsibility to make amends for the consequences of the last 60 years. It's totally careless to ignore this - food and how we eat is everything and we are responsible forming the society of tomorrow."
February 15, 2008