No change as Labour retain stronghold with comfortable majority
Labour's Virendra Sharma has kept his Ealing seat for another term.
There was never any doubt that the 68 year old would be re-elected having won in 2010 with a majority of over 9,000. In the event he saw a significant increase in his majority winning 65% of the votes.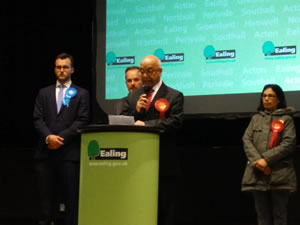 Virendra Sharma makes his acceptance speech
Both the Conservatives and the Liberal Democrats saw substantial falls in their vote with the latter being beaten into fifth place by UKIP and the Greens.
The win was part of a good night for Labour in the area with Steve Pound hailing a 'Tory free Ealing' after Rupa Huq won in Ealing Central and Acton.
Ealing Southall Constituency

Candidate

Party

2010 Votes

2015 Votes
%
+/-

Virendra Sharma

Labour

28,147

65.0

+13.5

James Symes

Conservative

9,387

-8.1

Jaspreet Mahal
Green Party

705

2,007

4.6

+4.1

John Poynton
UKIP

-

1,769

4.1

+4.1

Kavya Kaushik

Liberal Democrat

6,383

1,550

3.6

-11.4

Jagdeesh Singh
National Liberal Party: True Liberalism

-

461

1.1

+1.1

Majority

18,760

43.3

+21.6

Turnout

43,321

66.1

-4.7
A former Ealing Councillor, Mr Sharma took over the seat in a by-election following the death of the sitting Labour MP, Piara Khabra in 2007.
He won again in 2010 with 22,024 votes - 51.5% of those cast.
Ealing Hospital falls within Ealing Southall and Mr Virendra has campaigned heavily with 'Save our Hospitals'.
Ealing Southall Constituency - 2010 Result

Candidate

Party

2007
By-Election Votes

2010 Result

%

Virendra Sharma

Labour

51.5

-5.8

Gurcharan Singhi

Conservative

29.8

+10.8

Nigel Bakhai
Liberal Democrat

6,383

14.9

-3.3

Suniel Basu
Green Party

1,135

705

1.6

-3.1

Mehboob Anil
The Christian Party

-

503

1.2

+1.2

Sati Chaggar
English Democrats

-

408

1.0

+1.0

Majority

9,291

21.7

Turnout

42,756

70.8

+15.9
8th May 2015