Jon Ball is out and about supporting Ealing traders
Local Councillor Jon Ball can often be found in Ealing's eating or drinking establishments and you are also likely to spot him in the queue of one of the many takeaways of South Ealing.
A great advocate of the borough's social life, Jon wants everyone to get out and about more to support local businesses.
The Walpole
I'd heard lots of good things about the Walpole in St Mary's Road but have only recently visited it for the first time.

The Walpole has a cosy but unprepossessing casual exterior and opens as a cafe for breakfast and lunch from Tuesday to Saturday.
However, on Friday and Saturday nights it is transformed into one of Ealing's premier gourmet destinations, and booking is essential.

The Walpole is run by husband and wife team Louis and Wendy. While Louis works his culinary magic in the kitchen, Wendy cares for the customers.
She gives incredibly enthusiastic descriptions of each dish, from the provenience of the ingredients to the precise preparation techniques.

I started with the crab bisque, which was fantastic. I then opted for the shoulder of lamb, which is their signature dish.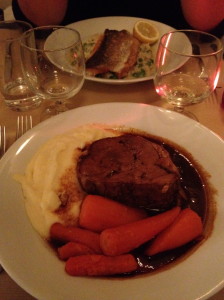 It's from Romney Marshes, which is flat so the lamb leads an indolent life with no need to do too much exercise and hence is supremely tender. It's then slow roasted for up to 8 hours to create orgasmic melt in the mouth perfection. It was simply the best lamb I've ever tasted.

My companion had the sea bass, which was another delicious masterpiece.
The wine list is short but contains classic high quality accompaniments to the fine cuisine.

If you want a special meal at very reasonable prices on a Friday or Saturday, you would be hard pressed to find a better choice in Ealing than the Walpole.
Jon Ball
If you want to be Ealing's Man or Woman About Town - send me a few lines about yourself and a short review.
8th December 2011