Jon Ball is out and about supporting Ealing traders
When he's not on the road with his job (as a film lighting technician) or in the Council Chamber representing his ward (as Ealing Common Councillor) Jon Ball is often to be found in one of Ealing's eating or drinking establishments.
A great advocate of the borough's social life, Jon is backing the Council's new campaign to get more of us out and about - helping local businesses.
Below he reviews a drinking establishment that has become as regular as one of his (very regular) eateries.
Crispins
Amidst the chain pubs that have come and gone, one locally owned Ealing institution that has stood the test of time is Crispins Wine Bar - a feature at 14 The Green at the Ealing Green end of High Street for 30 years.
This week Crispins officially reopened after the riot... although customers actually resumed using it shortly afterwards. To celebrate, the walls are adorned with an art exhibition by local international artist Houria Niati, which is the first of several displays of local artists' work that will be displayed at Crispins over the next few months.
Crispins' owners Polka and Alex Rastovic provide a warm welcome to anyone visiting the bar, which serves a wide range of bottled beers and spirits as well as its impressive array of award-winning wines from around the world by the bottle or glass at prices ranging from the very affordable to the exotic.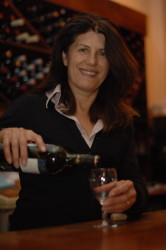 Crispins is one of the few places in Ealing where a visitor is likely to end up socialising with other members of the eclectic clientele rather than just people they already know. Polka introduces people to others they would find interesting and thousands of intriguing conversations and new friendships have resulted... not to mention the occasional wedding!
In addition to the varied drinks, food is also available at Crispins - from tasty snacks such as homemade pate or hummus to hearty full meals. Ask Polka what's available and she'll rustle something tasty up for you. If you're lucky, you may be serenaded by a pianist while you enjoy a glass of wine - just one of the random events that sometimes happens at Crispins.
Jon Ball
If you want to be Ealing's Man or Woman About Town - send me a few lines about yourself and a short review.
13th October 2011