Jon Ball is out and about supporting Ealing traders
Local Councillor Jon Ball can often be found in Ealing's eating or drinking establishments and you are also likely to spot him in the queue of one of the many takeaways of South Ealing.
A great advocate of the borough's social life, Jon wants everyone to get out and about more to support local businesses.
North Star
The closest thing to an old-fashioned traditional pub along the Broadway is the North Star. While the decor and food are more upmarket than your average boozer, it retains three distinct rooms and serves well-kept Cask Marque accredited real ale as well as a bewildering array of lagers. It provides a cosy environment to go for a pint, a bite to eat and a warm welcome sheltered from the November cold and remains a firm favourite with Ealing locals so expect the North Star to be busy unless you're fortunate enough to be able to pop in during the afternoon for a late lunch!
The North Star's winter menu provides great value. The minute steak with fries and confit tomato I had was one of a range of mains that are only £7 on their own or £10 paired with a starter or desert.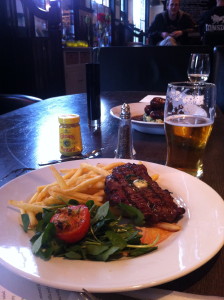 Very good steak frites for seven quid can't be knocked in these recessionary times. Other options include bangers and mash - free range Gloucester Old Spot sausages with kale colcannon and red onion gravy to be precise - and ox cheek and red wine pie.
Deserts include a chocolate and beetroot brownie with vanilla pod ice cream. The beetroot lends an interesting texture while allowing the real chocolate taste to predominate. If you haven't had enough to drink, there is always the Chambord Raspberry Liquor Eton Mess, marked on the menu as for adults only!
Darren was very helpful, providing a friendly smile and unofficial table service for those all-important extra drinks. The bar tab card features a helpful message on the back telling you what to do if you discover it in your pocket the next day, which as one drink leads inevitably to another, could happen all too easily at the North Star.

Jon Ball
If you want to be Ealing's Man or Woman About Town - send me a few lines about yourself and a short review.
22nd November 2011