Candidates and ward by ward analysis for this area
There are 23 wards in the borough of Ealing.
253 candidates are hoping for your vote for 69 seats on the council.
Three councillors get elected for each of the borough's 23 wards and serve for four years.
Below is a breakdown of eight of the wards in the Ealing and Hanwell area.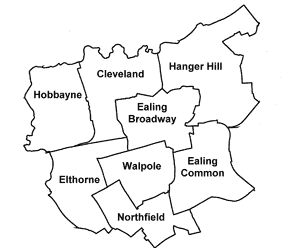 Click on map to get details of candidates and the voting in wards for the last election.

View all the candidates for all the Wards in Ealing here
Full results for Ealing are expected in the afternoon 23rd May
May 23rd 2014