Impact of Westfield being blamed on the closure
Related Links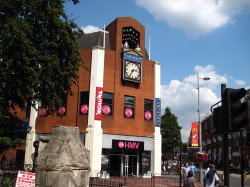 HMV in Ealing which held a prime position on the corner of the Arcadia centre
Participate
Sign up for our free newsletter
Comment on this story on the
HMV in Ealing Broadway has closed its doors for good with fifteen members of staff losing their jobs.
It follows the announcement made earlier this month from the HMV group - which owns Waterstones - that 40 music shops and 20 book stores throughout the UK would shut in a response to declining sales.
At the time HMV couldn't confirm whether Ealing would be hit but it was strongly suspected.
On Friday spokesman Gennaro Castaldo told Ealing Today.co.uk that the Broadway branch was no longer viable and it would shut on Sunday 31st Jan.
He said:
''I can confirm that our store on the Broadway will close at the end of this week. Obviously we're very sad to see it go, and whilst the majority of our stores around the country will be unaffected, we're having to look at a few locations that are perhaps not as viable for us to keep open as they once used to be.
''Most of these will be down to the fact there is more than one HMV store in the area serving the same public, but there will also be some instances where we may need to take other factors into account, such as rent levels that are particularly high or where people's local shopping habits have changed in recent years.
'' In the particular case of Ealing and other parts of West London there may well be quite a few retailers that will feel local purchasing habits have been influenced by the opening of Westfield a little while back.
Mr Castaldo said all staff had been informed and HMV are hoping to redeploy as many as possibled to other HMV stores.
He added:
"We would also like to take this opportunity to thank all our regular customers who have shopped at this store, who we very much look forward to seeing at other HMVs in the area.''
No announcement has been made regarding Waterstones yet.
Do you use HMV or Waterstones? What do you think about the closure? Discuss on the forum
28 January 2011