But company hasn't revealed which ones will go
Related Links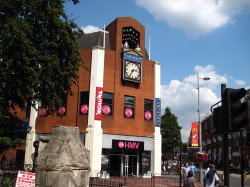 HMV in Ealing which currently holds a prime position on the corner of the Arcadia centre
Participate
Sign up for our free newsletter
Comment on this story on the
The future of HMV and Waterstones in Ealing Broadway is uncertain after it was announced the entertainment group would be shutting 60 stores in the UK.
Christmas sales at the firm were down 10%, and the retailer warned profits would be at the lower end of forecasts.
HMV group - which owns Waterstones- said it will close 40 music shops and 20 book stores in the next 12 months in response to declining sales. Bad weather and challenging trading conditions have been blamed.
Retail analyst Nick Bubb of stockbrokers Arden Partners describes the bad weather impact for poor sales as a 'silly excuse' and says despite attempts to change their sales mix, offering iPods and live music the HMVs core music and DVD market has been falling faster than expected.
Music retailers have had to cope with the sluggish recovery in UK consumer spending, competition from supermarkets and online retailers, and the shift in technology away from DVDs and CDs towards downloads.
The company hasn't revealed which shops are facing closure yet but London may bear the brunt.
EalingToday.co.uk asked HMV whether the Ealing stores were safe, spokesman Gennaro Castaldo sent this statement:

'' "We are actually talking about a relatively small number of stores across HMV and Waterstone's chains - less than 10% of our combined estates, which are likely to be located primarily in large-city conurbations and may be in close proximity to each other - thus resulting in a degree of duplication in relation to local demand.
''The vast majority of HMV stores around the country will not be affected, and we will look to ensure that the specialist offer and service that we make available to our customers in these locations is maintained. Likewise, we will look to redeploy any affected staff where we possibly can.
''This move in no way signals any intention to pull out of entertainment retail, which remains at the heart of our offer, and is ultimately aimed at safeguarding our core business as we continue our transformation into a broad-based entertainment brand that now also encompasses live music venues and festivals."
When pressed for further detail Mr Castaldo added: '' ...while we are pleased to say that the majority of HMV stores around the country are unlikely to be affected, we will also have to review the future of some stores that may be potentially no longer viable, although we are not yet in a position to say which these will be.''
Do you use HMV or Waterstones? What would their closures mean for Ealing? Discuss on the forum
06 January 2011