Question mark over massive Ealing development as Irish bank claims land
A legal dispute is threatening to cause further delays to the planned Cinema Quarter development in Ealing. A court ruling has given the go ahead for an Irish financial institution to appoint receivers and take control of the plot of land in the centre of the scheme.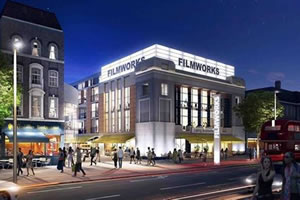 The Irish Bank Resolution Corporation (IBRC) wants to call in the £27 million loan to the company which currently owns the Empire Cinema site, Cinema Holdings 2 Ltd. The loan was originally made by the Irish Nationwide Building Society which has now been absorbed into the IBRC.
They are arguing that Ealing Council's planned Compulsory Purchase Order (CPO) for the site puts the value of their loan in jeopardy. Their original contract stated that the loan was repayable on demand but there was a moratorium on interest repayments for 10 years. They asked for repayment of the loan last year but received nothing and therefore they appointed a receiver in December.
Appearing before Nicholas Strauss QC, deputy judge of the High Court's chancery division the IBRC argued that they were effectively 50:50 partners in the project and that they needed to take possession of the land before the CPO went through. Mr. Strauss supported the contention of the IBRC that the case should be covered by Irish law saying that to try and determine in English courts would create a permanent "ping-pong" back and forth between courts in Dublin and London. He added that "there is no serious argument to the contrary" that the value of their security was in jeopardy and supported their right to call in the loan.
Cinema Holdings 2 Ltd gave notice of its intention to appeal.
A council spokesperson said: "The Council's decision to proceed with a CPO on the site puts the Council and Land Securities in a strong position to negotiate with the receivers. Council officers are meeting with the appointed receiver next week to discuss the best way for Land Securities to buy the site. If necessary, we will proceed with the CPO, but hopefully the receivers and Land Securities will be able to negotiate a sale so this won't be necessary. We'll continue to do all we can to bring a cinema back to Ealing."
Ealing Council announced their intention to carry out a CPO last October and in December put together a consortium led by Land Securities to develop the site once the land had been acquired. The initial proposals for The Film Quarter include a multiplex cinema and cafes, bars and restaurants linking New Broadway with Bond Street. A 'Cinema Square' will provide an event space with a giant video wall.
There will also be around 80 flats in the scheme, a film museum, art studios and an Arthouse Film & Dining experience.
February 27, 2013