Alex Springer stabbed his partner of twenty years and told nobody for three days
A man from Ealing will serve a minimum of 14 years after being found guilty of murdering his partner in November of last year.
Alex Springer, aged 50 of Eaton Rise, murdered 48-year-old Ravinder Jutla, after he learned that she was to break off their twenty year long relationship.
Ravinder met with her sister on 29 November 2015, and after spending the afternoon with her returned home where officers believe she was killed shortly afterwards.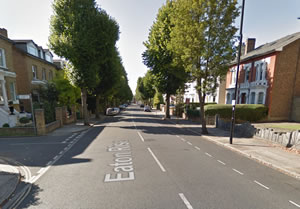 Eaton Rise - (Google Street View)
On the afternoon of 2 December 2015, police were called to Cecil Court on Eaton Rise, after Springer's son-in-law visited the address. He had last spoken to Springer on 29 November and after failing to get hold of him for several days, he went the property to check on Springer's welfare. It was then Springer confessed to killing Ravinder.
The police were called and on entering the flat, officers came across Springer's mother - who also lived at the address - and Springer, who immediately confessed to killing Ravinder. The officers made their way to a bedroom where they found Ravinder unresponsive on the bed with multiple stab wounds. She was pronounced dead at the scene.
A post-mortem examination gave the cause of death as three stab wounds to the neck, blunt force trauma to the head and possible pressure to the neck.
Springer's mother told the police that she last saw Ravinder shortly after 1pm on 29 November 2015. On retuning home at 7pm she asked her son where Ravinder was and he said that she was with her sister. Springer's mother told the officers that she had not seen Ravinder since that Sunday and had called her mobile a couple of days later, and left a voice message. She was unaware that Ravinder lay dead in her son's bedroom throughout that time. Springer was arrested and later charged.
Detective Sergeant Franco Massimo, of the Homicide and Major Crime Command, said: "This is an extremely sad and tragic case compounded by the fact that Ravinder had spent most of her adult life dedicated to Springer who then callously took her life.
"The death of Ravinder has caused much heartache to her family, whom she was very close to. Springer has given little indication as to why he killed Ravinder that fateful day and we can only speculate that he may have become aware that Ravinder was planning on ending their relationship.
"We believe Springer hid Ravinder's body for up to three days with his own mother unaware what had taken place and even took measures to deceive her to cover his tracks. This all unravelled following the unexpected arrival of his son-in-law and Springer had no choice but to confess to killing Ravinder.
"I am pleased with the result today and I hope that it provides some small measure of comfort to Ravinder's loved ones."
May 19, 2016