Four constables had been accused of using unnecessary force
A verdict of not proven has been returned against four police officers who were accused of using "unnecessary and unreasonable force" during an arrest at Northolt Underground station.
A misconduct hearing concluded on Thursday, 5 October in which the four police constables answered allegations that their conduct amounted to a breach of Standards of Professional Behaviour in respect of "use of force", "authority, respect and courtesy", and "discreditable conduct".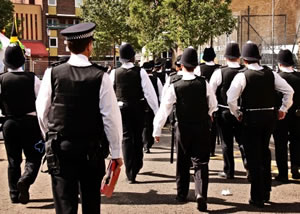 It was alleged that in March 2014 they had assaulted a member of the public whilst on duty, and arrested him without lawful cause.
The alleged assault consisted of hitting the man with a baton, spraying him with CS spray, pushing him, holding him on the ground and handcuffing him.
The officers were PC Louise Coleman, based at Roads and Transport Policing Command; PC Jade Lubin, based at Trident and Area Crime Command; PC Gulbadan Aulakh, based at West Area Command; and PC Jack Douglass, based at West Area Command.
The panel, led by an independent legally qualified chair, considered all of the evidence presented by the appropriate authority on behalf of the IOPC and the defence provided by the four officers.


October 6, 2018