Decathlon comes to the Ealing Broadway Shopping Centre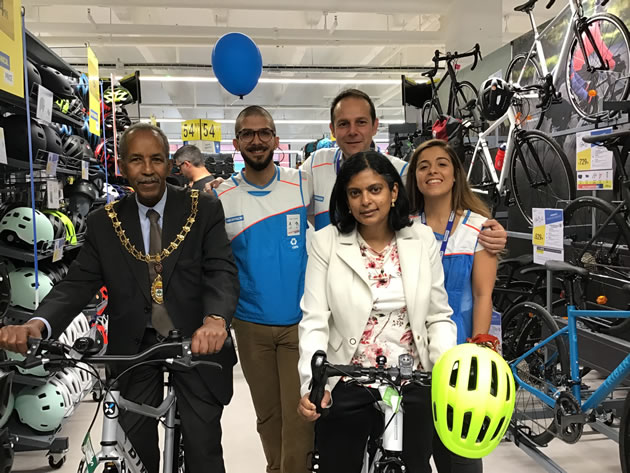 Rupa Huq with Abdullah Gulaid, the Mayor of Ealing
Ealing Central and Acton MP Rupa Huq joined crowds of local shoppers last month to cut the ribbon on the new Decathlon stores.
Dr Huq joined Abdullah Gulaid, the Mayor of Ealing, at the opening ceremony of Decathlon. They were given a tour of the new store and took part in some sporting activities, supported by the local sports community as part of the opening.
Multi-sports retailer Decathlon opened its brand new store at Ealing Broadway at 5pm on Thursday 15 August..
This Decathlon store is the 45th to open in the UK, and will offer clothing and equipment for more than 70 sports both in-store and through Click & Collect, including Decathlon's exclusive brands such as B'Twin cycling, Quechua camping, and Kalenji running, which are designed in Decathlon's own laboratories in France. Decathlon was established in 1976, with the first store located near Lille, France. Since then Decathlon has grown into a global business, present in over 30 countries, with more than 1,500 stores worldwide.
The 1,800sqm store will include a sustainability area where shoppers can recycle, testing areas for sports including yoga, boxing, body building and tennis, as well as a camping showroom displaying all of the latest equipment.
The local sporting community are also being welcomed to the store, with a dedicated Sports Hub space available for sports clubs to use for practicing or meetings free of charge.
Andrew Rollings, centre manager at Ealing Broadway, said: "We are delighted to welcome Decathlon to Ealing Broadway. This new store adds to our great sports offering and follows on from the recent re-launch of Nuffield Health."
Ricardo Rodriguez, Decathlon's Expansion Manager, commented, "The Decathlon store opening exceeded all of our expectations. We were overwhelmed by the crowd that queued outside the store before the opening – it took the store team 12 minutes of continuous clapping to welcome everyone in!"
Ricardo added, "The reception by the people of Ealing is a reflection of the exceptional work carried out by the Decathlon team. We want to ensure the store is a proper sports hub at the heart of Ealing and look forward to working closely with the community in the future."

August 28, 2019