Huge fine for store after hygiene issues at Ealing Broadway Shopping Centre branch
Poundland has received a large fine after being found guilty of multiple breaches of food safety regulations at their Ealing Broadway Shopping Centre branch.
The poor standards which led to a £159,750 fine were first highlighted when a woman discovered mouse droppings in a multi-pack of Monster Munch that her daughter had picked up in April 2017. There were droppings in the packets of crisps and holes where the mice had knawed through the packaging.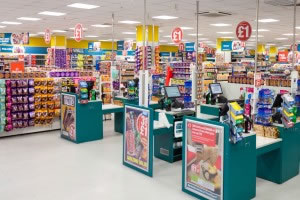 She reported the problem to Ealing Council and their food safety team carried out an investigation which established that Poundland failed to protect food against any contamination likely to render the food unfit for human consumption, to keep their premises clean and to ensure that adequate procedures were in place to control pests. The organisation also failed to ensure that the construction of their premises permitted good food hygiene practices, including protection against contamination and pest control.
Poundland Limited pleaded guilty to four offences and on 15 August 2018, District Judge Wright at Uxbridge Magistrates' Court imposed the fine, with Poundland agreeing to pay the council's costs of £8,368. They were also ordered to pay £150 in compensation to the customer who originally bought the food.
Councillor Joanna Camadoo, cabinet member for community safety and inclusion said, "Food safety standards and public health are of the utmost importance and we're delighted that the court has recognised how serious these offences are. It is vital that the public can have confidence in the hygiene standards in our high street shops and this fine should serve as a stark warning to all businesses, whether large or small, that if they do not comply with regulations, we will take action."
A spokesperson for Poundland said, "We wish we could turn the clock back but we can't.
"We took the opportunity today to apologise directly in court for the circumstances that led to the prosecution. They stemmed from practices in Ealing that were unacceptable to us.
"We took the opportunity today to reassure the court that we've done everything we can over the last 17 months to overhaul our approach to pest control and training. Nothing is more important to us than the highest in-store standards"
Anyone with concerns regarding a food business within the borough should contact the food safety team on 0208 825 6666 or e-mail foodsafety@ealing.gov.uk.

August 15, 2018