Give yourself the home you've always wanted

Patricia Conti was in the interior design business for several years before opening her studio on Northfield Avenue in Ealing. Here she talks about her work and her ideas.

So, Patricia, what does an interior designer actually do?

Well, I suppose it's really all about taking the best advantage of the available space, at the best possible price. But when you get right down to it, it's actually the client who does the designing, not me! I just provide ideas, options, and the execution.

And the experience...

Well yes, of course. I've been in this business for a while, so I know where to find things and where to get things done. I can usually match up a client's aspirations with a concrete proposal quite quickly, and I always work with craftsmen and women I can trust to do things properly. It would take a client a bit longer to get it all together. And a lot of walking! But in the end, when we have all those samples fanned out on the bench, and Plans A, B and C in front of us, it's the client who makes the choices. My clients decide what we actually do. Which is how it should be: it's their home!

What would you say to people who think services such as yours are only for the wealthy?

It's not true. It's not an elite service at all. Everyone deserves a lovely home. The right person can actually save you money, and deliver more than you expected or could ever get on your own. And it doesn't cost the earth: my prices are no higher than John Lewis'. I know what it's like to make a home on a limited budget. Plus you get a personal service, tailored specially for you. Whatever a client wants, I can help. If she wants curtains, I can do that. We get together, talk about colours and styles, choose the fabric, and I take care of the rest, from making to fitting, hardware and all. If my client wants cushions or carpets or to have a much-loved armchair re-upholstered, I can do all that. If she wants e-v-e-r-y-t-h-i-n-g I can do that too. Even when - or perhaps particularly when - a client doesn't know quite what she wants, I can help her decide by suggesting alternatives, showing her what works or doesn't work...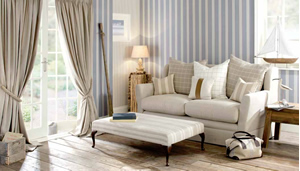 How would you describe your signature style?
I wouldn't dare! I don't really think that way. For me it's all about understanding what the client wants, what the client's style is, and then working with that. And even when I filter people's ambitions through my own experience, it's not about imposing my taste on anyone, and if my taste does come into play it's ultimately her decision anyway. And in the end if the client's happy, I'm happy. I've done my job.
It's funny, you know, the way the term "Interior Design" is sometimes viewed with suspicion. I suspect it's thanks to people who try to impose a particular vision, which unfortunately is often more about fashion and ego than the day-to-day business of running a home. You'd be surprised at how many of these "designer" homes I've seen where there isn't enough storage space, or where you can't make a toasted sandwich without the whole house smelling of food. And nothing ages quite so fast as fashion. I prefer elegance every time. It's easier to live with, and to add to, and it lasts a whole lot longer!
How has the internet affected your business?
It's hard to say, really. I don't know how I'd measure that, because we're not comparing like-for-like. This isn't just about buying "stuff". The home is a personal, intimate space, and it needs the human touch to really bring out the best in it. Which is great, because the personal touch is exactly what I specialise in!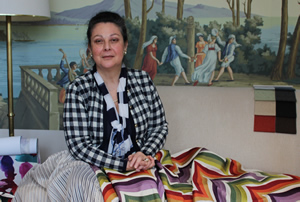 Advertisement
November 13, 2014