Try Ocado Zoom today to save 20% on your first order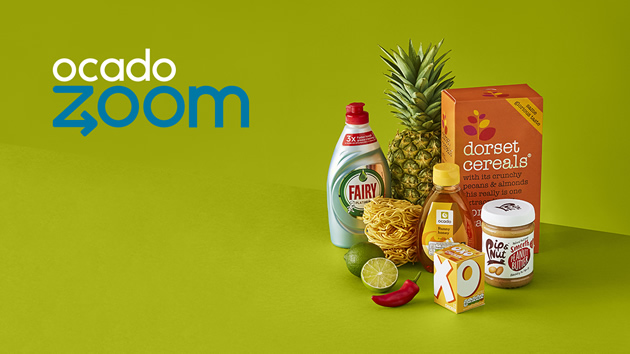 Almost two-thirds of us find last minute top-up shops and unplanned trips to the convenience store anything but convenient.
Ocado Zoom has arrived in west London to change all that – and it's already changing the way people shop for groceries in the area.
The newest innovation from the popular online supermarket is a real game-changer: the Zoom website and app delivers groceries in less than 60 minutes! That means you can order your shopping on the train home, breakfast from bed, and get a last-minute bottle of wine without leaving the house. And it seems to be its flexibility that people are loving because West Londoners are 'getting a Zoom ' for a number of different reasons.
What
Everyone knows that us west Londoners are as cool as cucumbers but it seems we're pretty hot on Ocado Own Brand Cucumbers, too - they're the most popular item from the 1,500 products in the Zoom fresh range. That's part of their 10,000+ range - a range that gives you a lot more choice than your local convenience store.
In fact, we like our fast groceries fresh, Fairtrade and Organic, with cucumbers, bananas and avocados proving very popular across all postcodes.
Customers are loving it so far. Jade said, "Ocado Zoom is a great idea - we were away for the weekend and ordered the morning we were coming back once plans had been firmed up. Good for flexibility, good choice of products and driver was wonderful!"- Jade Feeney-North
When
Zoom delivers groceries in less than 60 minutes, or later the same day, from 7am-10pm, seven days a week. And, with delivery charges from just £1.99, and £15 minimum spend, it fulfills very different grocery needs depending on the day of the week, time of day and even west London postcode.
Friday and Saturday night is Zoom boom time as people unwind after a long week. The way we mark the weekend in west London varies by postcode according to Zoom shopping habits. In W3 skinny popcorn and fancy chocolate, W4 prefers Sierra Nevada Pale Ale and pizza, and falafels and ice cream are popular in W5.
Sundays, across all postcodes, are about getting ready for the week ahead with toiletries and cleaning products being particularly popular. There is an upsurge in sides like Cauliflower Cheese as customers quickly add extra trimmings to their Sunday roast.
Soft drinks are popular on Monday mornings with residents stocking up on Evian Water, Fiji water, and Diet Coke. Wednesday evenings are all about last minute meals delivered in less than 60 minutes with cupboard essentials like rice and chopped tomatoes popular but there is evidence of the weekend mindset kicking in early with an increase in chocolate treats like Gü melting middles. Mums and Dads also seem to be taking advantage of Zoom and avoiding the walk to the local shop by having nappies, wipes and creams delivered in an hour.
Why
Customers are using Zoom to waste less food as Anne in Ealing highlighted:
" Ocado Zoom is super quick and hugely convenient. Just perfect for my lifestyle. Less waste as I can order as I go and the delivery charge is very reasonable." - Anne Nadel
Hannah Gibson, Head of Channel Development at Ocado, explained why they thought the time was right to launch Zoom.
"Our customers are always looking for simple, efficient solutions to life's everyday inconveniences - and so are we. Zoom will be able to deliver dinner, baby products and even a weekly shop in less than an hour, but what sets this service apart from our competitors is the substantial range of products available. With over 10,000 items, Zoom's offering is considerably larger than you'd expect to find at inner city supermarket shops, convenience stores or corner shops."
Ready to get a Zoom? Visit ocadozoom.com to claim your offer.

May 16, 2019