The We Love Cheese festival is back by popular demand on Sunday 22nd April.
We are very excited to announce the We Love Cheese festival is back by popular demand returning to its home at Dickens Yard, Ealing on Sunday 22nd April.
We Love Cheese has fast become one of the top foodie events to visit, with last year's October fixture being a sell-out. Once again, the event will host cheesy food traders such as Raclette Brothers with their traditional alpine classics topped with melted raclette from their mega wheel, Grill My Cheese return with cheese filled toasties, Mac to the Future will be dishing up the finest mac 'n' cheese, Muffin Man & Co will be slinging their all-day breakfast muffins with halloumi or Ogleshield and The Good Slice will be firing up the ovens to serve seasonal Italian pizzas – this is a brie-ly good food line up not to miss!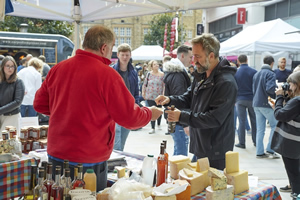 Those attending this year's event will find an extensive selection of cheese producers & importers, all vying to win the coveted We Love Cheese Cup. Returning champions Capo Caccia will be joined by the likes of The Somerset Ploughman, Montadito and The French Comte. Also on offer will be a wide range of accompaniments, from freshly baked bread and charcuterie to delicious olives and wine.
Once again, guests will be able to visit the sought after 'Ealing Bites' talk tent, which will be hosted by the nationally renowned food critic Grace Dent - who'll also have the honour of announcing this year's Cheese Cup winner. The talks tent has joined forces with Ealing based brewery Weird Beard Brew Co and Acton wine experts Park & Bridge who'll be hosting cheese pairings to help visitors find that perfect beverage to partner with any cheese.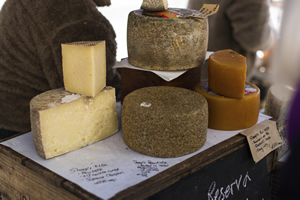 With live music, a Little Artisans cheese themed craft tent and a 'Wheel of Cheese' game of chance on offer there's plenty to keep you occupied.
We Love Cheese is free to attend and no ticket is needed. However, tickets are required to take part in the We Love Cheese cup - https://www.eventbrite.co.uk/e/we-love-cheese-cheese-cup-tasting-card-ealing-tickets-37240331835?aff=eac2 or to attend the beer or wine tasting & pairing sessions in the talks tents - tickets available on the day.
So, cheese lovers, Unite! It's once again time to taste, buy and meet the experts at the super popular event.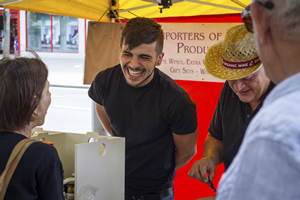 Advertorial