New lawn play area to keep the kids happy this summer
Related Links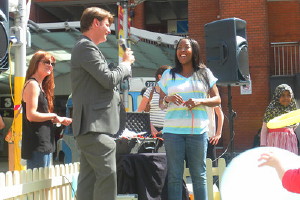 Angellica Bell opens the games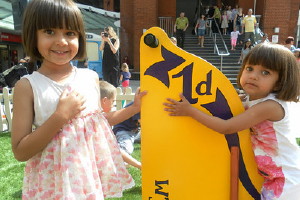 4 year old Maariya Khan and 2 and a half years old Zahra Khan,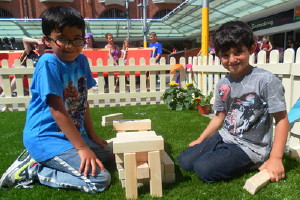 6 year old Sohaib and 5 year old Tayib Ahady
The Bells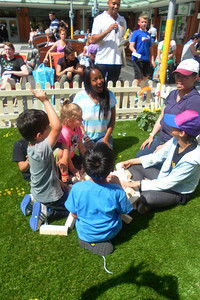 All images copyright : Meena Toor
Participate
Comment on this story on the forum
The One Show (and former CBBC) TV presenter Angellica Bell, opened the summer games in Ealing Broadway Shopping Centre, staying to play giant croquet, penny arcade and jenga with the children.

Angellica opened the new lawn play area in the middle of Ealing Broadway's busy shopping centre at 11am on Saturday 27th July. This site will offer free entertainment for shoppers and young children until August 31st.

Now a local resident in Kingston, Angellica moved from her hometown of Ealing to be with husband Michael Underwood and her two children.
She describes living in Ealing as special:
"I grew up here. You see a place evolve and transform. I used to go Questors Theatre to go acting classes. My sister used to work at V K Sports. I used to work in McDonalds. Residents have a bond and rally together. There's a heart – it's the 'queen of the suburbs.'"

Mum of two, she finds parenting enjoyable and allows her to connect with other people:
"It's amazing. I love my children. They're a miracle and they're an extension of my family. It's important that I set a good example for them.
"As a parent at an event like this, I get to meet people who are in the same situation. I'm a little bit of a public figure but I'm no different from them. I live a really normal life, so it's nice to come back to where you're from and the community, and give something back."
Parents also agreed that the event was a great success. While the children played in the sun, guardians took post on deck chairs and in the shade, and found the event a great attraction.

Mum of 6 year old Aivaras, Alina Cerniavski, called the event a "pretty and very attractive... good place" for kids, while mum Hina Singh said "events like this are in short supply" in Ealing.

One mum, Farha Nathu, found the event by accident:
"We've just come out to do a bit of shopping and stumbled across it. We actually don't live in West London so it's a nice day out and this is just a great way to top it off."

Even 66 year old Jane Mazouz, a retired dinner lady from Acton, is hoping to bring her three grandchildren (aged 6, 7 and 10) to the event in a week's time.

Towards the end of the afternoon, Ealing council leader, Julian Bell, also arrived and put his feet up after some campaigning activity in Acton.
Stepfather to Angellica, he had a profound influence on her life:
"My dad was a very big influence. He used to talk about what was happening on TV, and made us aware and opened my eyes. I was the first person in my family to go to university and it was because of him.
"I wouldn't mind getting involved in youth politics. Look at people like Glenda Jackson and Sebastian Coe. It would be exciting."
Amidst the event's excitement, some shop owners had a few complaints. One said noise disrupted staff making sales, and they hadn't been given enough notice about the plans.
However a spokesperson for Ealing Broadway Shopping Centre confirmed that:
"All retailers were sent an email regarding the event taking place and inviting them to participate and also to attend a meeting in advance of the event. [The retailers] were all very positive.
"We ensured that the event only took place over a few hours so that any noise disruption was kept to a minimum."

The games will conclude with a Jenga Championship on August 31st. Ealing residents can get involved in the daily activities and the jenga championship, by visiting the Ealing Broadway Shopping Centre events page.
Meena Toor
@journomeena

30th July 2013