Viv Ellis and friend enjoyed this years Ealing Comedy Festival
Related Links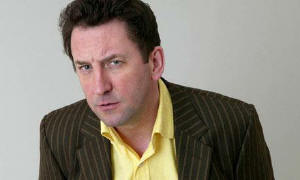 Lee Mack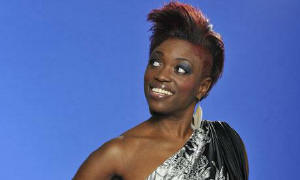 Andi Osho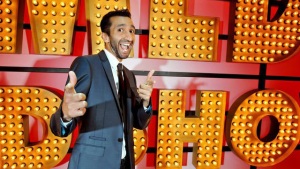 Imran Yusuf
Participate
Comment on this story on the forum
2013 was the 20th anniversary of the Ealing comedy Festival – and there was a fantastic line up.
On Wednesday I caught the brilliant Lee Mack. As far as I'm concerned he's a local comic. Yes, he was born and raised in Lancashire – but he went to Brunel University in Uxbridge – that's good enough for me.
On stage he's manic and shouty as he struts back and forth. This man puts in 110%, every daft one-liner, every grin; every 'spontaneous' exchange with the audience is bent on laughs. There was some genuinely funny audience interchange during the many planes that flew overhead – with us teaching him whether they were taking off or landing. He told lots of affectionate (I think) gags about his wife and 3 kids. Sample; "I took the kids to Disney World and all they did was whine and cry. Oh, hang on a minute…. No not Disney World, the other one ……. Carpet World"
He was head and shoulders above the other two acts on that night – couldn't help wondering if he'd been squeezed into the middle slot as he had another booking to dash off to.
The headliner that night was Piff the Magic Dragon. He has quite a following – Penn and Teller are fans, as is Jonathan Ross, he's on the cover of Mumford and Sons' second album, Babel. But I was in row P and I'm not very tall at the best of times (well at any time) so an act doing card tricks and close up magic is a bit of a challenge. I really didn't enjoy him, which is a shame as I have watched him since on YouTube and he's good.
In the spirit of a lovely summer and great Ealing attractions, here's a BOGOF from me - my friend Andrea Richardson went to see the comedy the night after, here's what she thought.
"Jo Caulfield, who is always fair with her humorous attacks on both sexes was as cutthroat and witty as ever with her observational comedy. Next was Iranian Omid Djalili . One of the top UK acts; he was on form and was very funny as always. He clearly has a soft spot for Ealing. Our final act was Ed Byrne who was trying out some of his Edinburgh Festival material - highly entertaining and again it is the observational comedy that gets the laughs."
On the final night the mighty Bob ("In Bed with Medinner") Mills was in charge again as MC. Being MC at comedy gigs is a hard task – you have to be halfway between the audience and the acts, you can't be the funniest person onstage, you have to keep the audience in check, but at the same time you need to keep the audience amused in between the other acts.
Mills is the master. Berating late-comers, dismissing the noisy overhead planes with "Yes, well now you know why I live in Hampstead" he had all the drivers in the venue in stitches as he pondered if the cost of putting on the Comedy Festival is met by the income of the council's parking fines.
Paul Sinha is a former doctor who, as well as being a stand up, is one of the "Chasers" on the ITV game show of the same name. And he's gay – or as he says "The only gay Bengali in the village". He did quite a bit on coming out to his parents, stating that it sometimes felt that being gay was the ultimate taboo – just below a leper and above someone who doesn't understand cricket.
Andi Osho disappointed me a bit – I've seen her (and a lot of this material) on the telly. We had a lot of jokes that seemed a bit dated – about for instance Cheryl Cole attacking the toilet attendant That was 200 !
On to my personal favourite (and secret "guilty" crush) Imran Yusuf. Kenyan born, he's a British Moslem with a smattering of American thanks to a year in school there. Unsurprisingly his act is inspired by this multi cultural background – which give him a pretty unique viewpoint. He says he's "English two point zero"
His delivery is always super high energy, with tongue in cheek slang but a charming and cheeky undertones. At the end of his stint he paid tribute to M.C. Bob Mills saying as a schoolboy he used to watch him on the TV and Mills was what inspired him to want to be a comedian. Aw…..
Gay comic Scott Capurro was as funny and outrageous as he always is – there was not an "ism" left to ridicule…
Finally Owen ' Neill an Irish comic who had us in fits with his tales of woe about the sunny weather as Northern Irish people have skin' like tissue paper' – and onto his senile granddad who got upset when he thought Princess Diana was killed by Pavarotti on a motorbike. There's one for the conspiracy theorists.
Bob Mills rounded off by reminding us all that the Ealing Comedy Festival is an annual event, but comedians are in clubs every night getting heckled and working hard to 'keep comedy live', and they need our support and patronage.
Viv Ellis
Did you go? Who were your favourites? Discuss on the forum.
23rd July 2013