Viv Ellis enjoys a 'red hot' gig at Walpole Park
Related Links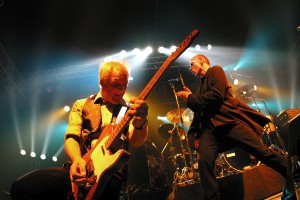 Participate
Comment on this story on the forum
Dr Feelgood is a band that's held legendary status for decades. The last time I can remember seeing them was, if I remember correctly, the mid 70s in a club in Birmingham called Barbarellas – famous for having a tree growing up through the roof. Back then; the line up still included the band's founders Wilko Johnson and Lee Brilleaux.
They famous for being from Canvey Island right? Lee Brilleaux actually grew up in Hanwell before his family "went east" when he was 13. Six years later he and Wilko formed The Feelgoods and the rest, as they say, is rock and roll history. Sadly we all knew that neither could be there at Walpole Park; Lee passed on years ago from cancer and the same disease sadly has Wilko in its pernicious grip too.
The current line up didn't let us down. They hit the stage firing on all cylinders from the word go delivering a red hot set of R&B that was both British and brutish – a sound that has inspired later musicians as diverse as Paul Weller, Joe Strummer, Graham Coxon and Alison Moyet who have all paid homage to this band that stripped R&B back to its basics.
Robert Kane on vocals is the 'new boy'. He may lack Brilleaux's manic, demonic stare – that surely inspired Johnny Rotten- but he manfully snarled his way through loads of their most famous numbers; "Livin' On Milk and Alcohol", "Back in the Night" as well older stuff that's always been in their sets; "There's a riot going on in cell block 9" "Route 66".
Steve Walwyn on guitar was amazing. He's been in the band since the late '80s and his playing is solid and brilliant – the same choppy style that the band became famed was famed for with riffs tighter than Sharon Osbourne's forehead.
A red hot set that went down well with the audience.
This year the Blues Festival was over two days. The music I heard was good, nice food – not all the usual junk – nice vibe. I didn't see a single policeman patrolling for trouble. My only gripe – which applies to all the other gigs there too, is that the way out of the park is not very well lit. We were fumbling around for the torches on our smart phones (alas I could only find the spirit level!) as the ground's really uneven.
Viv Ellis
24th July 2013