Tickets for The Globe available for 11-16 year olds
Related Links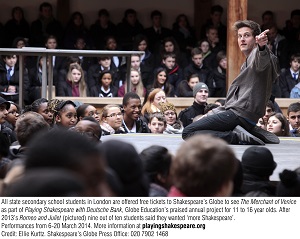 Participate
Comment on this story on the forum
Ealing state school students are offered free tickets to Shakespeare's Globe to see The Merchant of Venice as part of Playing Shakespeare with Deutsche Bank, Globe Education's praised annual project and resources for 11 to 16 year olds.
Performances will run daily from 6 to 20 March next year. Last year three schools from Ealing took part, and over the next three years, every London state school will have the opportunity to get involved.
For Playing Shakespeare with Deutsche Bank Globe Education commissions a production designed especially to engage teenage students.
Performed by Globe actors on the Globe stage, the productions retain Shakespeare's language and are accompanied by award winning interactive web resources to support KS3 and KS4 curriculum teaching. There are also free Continuing Professional Development (CPD) sessions for teachers and in-school workshops for students.
In a survey of students who saw last year's Romeo and Juliet: nine out of 10 pupils said they wanted 'more Shakespeare' and six out of 10 felt Shakespeare was relevant to their lives today.
This year, Globe Education is extending performances to offer state schools outside London and independents the opportunity to buy tickets at greatly reduced prices, from £5 to £15 for performances on 21 to 28 March.
To apply for free tickets, allocated on a first-come-first-served basis, to enquire about CPD and students workshops, or to purchase tickets please see online at www.playingshakespeare.org or call 020 7902 1435.
With the support of Deutsche Bank, since 2007 the annual project has provided over £1million worth of free tickets to London state secondary students to experience live Shakespeare at the world-famous theatre. To date, 70 per cent of London state secondary schools across every borough have been involved in the project. Over the next three years, every school in London will have the opportunity to be inspired by a Globe Education production and the supporting resources.
Patrick Spottiswoode, Director Globe Education, said, "Over the next three years, thanks to the continuing support of Deutsche Bank, over 100,000 students from every borough of London will see Shakespeare's plays performed in the theatre for which they were written. For most, this will be their first experience of live theatre as well as live Shakespeare. I can think of no better way of celebrating the 450th anniversary of Shakespeare's birth than to encourage students to meet Shakespeare playfully, as he intended, and at the birthplace of his plays."
October 2nd 2013