Unveiled by his grandson at former Pitshanger home
Sporting champion and tennis great, Fred Perry (1909 – 1995), has been commemorated with an English Heritage blue plaque at 223 Pitshanger Lane, Ealing, his home during his Wimbledon triumphs.
John Barrett, tennis commentator and close friend of Fred Perry, spoke at the ceremony and the plaque was unveiled before a large enthusiastic crowd by his grandson, John Frederick Perry.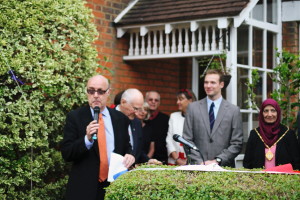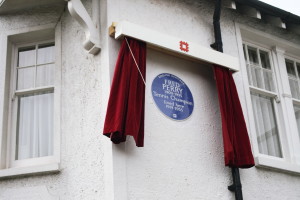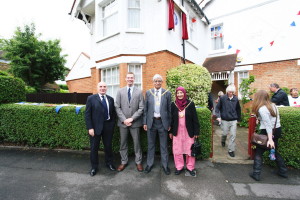 photos courtesy Tom Doran
Penny Perry, Fred Perry's daughter, said:
"This is a great honour and it seems so appropriate that the occasion is taking place during the English summer tennis season, in a Royal Jubilee year that is hosting the Olympics.
''All of these things would have thrilled Fred because no matter where he was in the world, he always considered himself to be grass roots English.
''This house was the base of opposing emotions in his life lessons with the sadness of loss and the elation of success. It was also from here that many of the friendships were formed that would last Fred his entire lifetime and he would be extremely proud today."
Howard Spencer, blue plaques historian at English Heritage, said:
"Fred Perry dominated men's tennis in a way no British player has done so since. Less well appreciated is the extent to which he outshone his predecessors too; when he won Wimbledon, he was the first British man to do so for twenty-five years.
''The plaque to Perry will remind people of his achievements, hopefully inspire others, and serve to connect him with the house that is so closely linked to his Wimbledon victories."
18th June 2012