Take part in NSPCC'S Big Packed Lunch
Related Links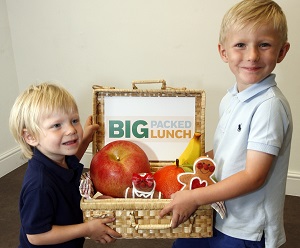 Participate
Comment on this story on the forum
Ealing and Acton residents are being urged to to get together and create a creative or unusual lunch on Wednesday 17 September as part of the NSPCC's new campaign.
The charitY wants everyone to donate money that would have otherwise been spent on a boring old sandwich to their ChildLine Schools Service.

Whether you stage a fancy lunch a children's meal or an indoor picnic, the idea is simple – pick a date, invite guests, (make sure they all bring some food to share), make a donation to the NSPCC, then gather round and enjoy.
NSPCC fundraiser Sam Wilkins said; "It's a really simple idea and we want people to have fun with the Big Packed Lunch and get everyone together to share their lunch goodies, and at the same time raise vital funds for the NSPCC. We hope that lots of local people will take part on 17th September, but if anyone wants to stage a lunch on another date that's fine too!"
The money raised through Big Packed Lunch will help to fund the NSPCC's ground-breaking ChildLine Schools Service, which uses trained volunteers to deliver age-appropriate workshops and assemblies to 9-11 year olds in order to educate them about abuse, how to protect themselves, and where to get help if they need it.

NSPCC research shows that, on average, two children in every primary school classroom have suffered abuse or neglect. However, whether it's through fear or lack of information, children are not seeking help or telling anyone what's happening until they are much older.
Since its launch the ChildLine Schools Service has carried out 20 school visits in the Ealing LEA area and spoken to 2,487 children, but with a total of 83 primary schools in the area, there is still a lot more to be done.

Sam continued: "With the support of local people we can visit every primary school in this area and give children the confidence to talk about abuse and the courage to seek help if they ever need it."
The NSPCC has produced a Big Packed Lunch fundraising pack which includes hints and tips for staging an event.
To find out more and to get your Big Packed Lunch fundraising pack, visit www.nspcc.org.uk/lunch

1st August 2014