Painting exhibition is touring the borough
Related Links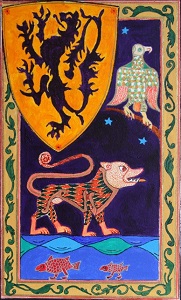 The coat-of-arms belonged to Sir John de Lacy, Lord of Pontefract Castle and was painted by Valerie Cloake of the Hanwell based 4020 Art Group
Participate
Comment on this story on the forum
Ealing Autumn Festival's painting exhibition based around the 800th anniversary of the Magna Carta is on the move again.
Visitors have been admiring the Magna Carta turns 800 exhibition since it opened in June and the unique coloured paintings, which are touring libraries across the borough as part of this year's festival, have already been on display at Ealing Central Library and Hanwell Library.
This week the paintings moved to Acton Library and Northfield Library, where a digitised version will be shown, until August 15. There will also be an open day at Acton on August 8 (2-4pm) and Northfields on August 15 (10-30-12.30am).
The 26 paintings are based on the coats-of-arms of the 25 Magna Carta barons and King John and the image featured here has been the backdrop to the exhibition.
The coat-of-arms belonged to Sir John de Lacy, Lord of Pontefract Castle and was painted by Valerie Cloake of the Hanwell based 4020 Art Group to a design by west London artists Diana Braybrook.
The painting is oil and acrylic on canvas and features a night-time view of strange animals and fish with feet, walking along the bottom of the picture.
For further details of the exhibition and festival visit www.ealingautumnfestival.co.uk
4th August 2015